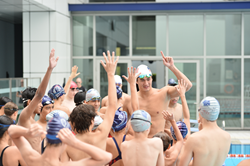 Singapore, Singapore (PRWEB) September 11, 2014
Three American Olympic swimmers joined Stamford American International School students in a dialogue of tips and techniques followed by hands on training to equip Stamford's top swimmers to achieve more than they think they can.
As a continuation of Stamford's Global Mentor Program, 30 of Stamford's top swimmers had the opportunity to ask questions and receive dedicated swim training with the American heros. The swim clinic held at Stamford was part of the broader Singapore Swim Stars event that was held September 5-7, 2014. During the clinics, the Swim Stars shared tips on technique, competition and sportsmanship with the students.
Jessica Hardy has won 28 medals in major international competitions, 14 gold, 9 silver and 5 bronze spanning the Olympics, World and Pan Pacific Championships. David Plummer, World Champion Silver Medallist, offered his many years of expertise and swimming accomplishments to the students of Stamford as he dove in the water to demonstrate the art of gliding with limited resistance. Among Nathan Adrian's many accomplishments, the reigning Olympic 100m freestyle champion finished the Singapore Swim Stars swim meet at the OCBC Aquatic Centre with two wins in the 100m and 50m free style.
After a short relay competition during the clinic, a few of Stamford's best swimmers were chosen to be part of the Swim Clinic Showdown at the OCBC Aquatic Centre on Saturday evening for a fun-filled relay competition. Eight Stamford students were chosen to swim with the three Olympians and came in 2nd place overall to win a Silver medal. Olympic medallist and world record swimmer Jessica Hardy said, "I think it was a great experience. We love being able to share and motivate kids and I hope they had a good time. They may not always remember all the details we taught them, but the joy and the laughs we share are priceless; I hope they enjoyed it."
In addition to the energy-filled relay, Stamford's top male (Adam McMahon, Grade 9) and top female (Caitlyn Duong, Grade 9) swimmers raced with Hardy and Adrian against other local and international schools in Singapore, placing 4th overall.
As part of the Global Mentor Program, Stamford has also welcomed South African swimmer, Roland Schoeman, and Gerhard Zandberg also of South Africa to bring insight and experience to the successful swim program and overall athletics program at the school. With state-of-the-art sports facilities, Stamford looks for every opportunity to give students exposure to global leaders and mentors from around the world.
ABOUT STAMFORD
Stamford American International School (Stamford) is the benchmark for excellence in international education in Singapore. With its experienced team of educators, cutting-edge facilities and rich cultural diversity, there is no better way to prepare students for a competitive and fast changing world.
Stamford's academic curriculum prepares students for entry into the world's top universities. Stamford is the first school in Singapore to offer students both the American High School Diploma and the International Baccalaureate (IB) Diploma – giving students an international experience with an American foundation. Stamford also excels in the teaching of languages offering Mandarin and Spanish classes on a daily basis, beginning when students are as young as two years old.
Stamford's $300 million campus off Upper Serangoon Road is the most advanced learning environment ever built and is the largest investment in a Kindergarten to Grade 12 education facility anywhere in the region, providing a major economic injection into the Singapore economy. The campus features state-of-the-art technology and facilities, establishing it as the benchmark for international schools around the world. Stamford's campus is designed to be the perfect environment for preparing children for careers in the 21st century.
Key features of the school include:

iLEarn - Singapore's first interactive learning environments where guest lecturers and teachers from around the world can interact with students
Singapore's first 1-to-1 iPad program for Kindergarten 2 to Grade 5 & MacBooks for older students
21st century Media Resource Centers - beyond the traditional libraries, these centers are up to date with the latest traditional, as well as technological resources
State-of-the-art science wing and computer laboratories
Comprehensive art facilities, including a state-of-the-art 500 seat theater.
World-class sporting facilities featuring climbing walls, gymnasiums, sport fields, swimming pools, tennis courts, a Golf Academy and more
Specially designed Early Years and Nursery facilities
Electronic security system for each child
For more information please contact:
Megan Reed
+65 6602 7247
megan.reed(at)sais(dot)edu(dot)sg