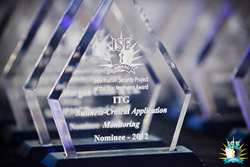 NEW YORK and ATLANTA (PRWEB) September 10, 2014
T.E.N., a technology and information security executive networking and relationship-marketing firm, announced today the nominees vying for the 2014 Information Security Executive® and Project of the Year Awards in the Northeast U.S. Region. Executives include top-ranking decision makers representing organizations in financial services, business solutions, health care and media/entertainment. Projects include large-scale technology endeavors that address key issues in the information security industry.
Executives Nominees:
Joseph Adornetto, Executive Director, IT Security, Quest Diagnostics
Vikrant Arora, Sr. Director, New York City Health & Hospitals Corporation
Roland Cloutier, Chief Security Officer, ADP
Mark Graff, Chief Information Security Officer, NASDAQ
Chuck Hudson, Executive Director, National Governance, Risk and Compliance, Comcast
Jim Routh, Chief Information Security Officer, Aetna
John Schramm, VP of Global Information Risk Management and CIRO, Manulife Financial
Dan Tigar, Managing Director, Citigroup Architecture and Technology Engineering (CATE) CitiSecure Platform
Executive nominees are also eligible for the ISE® Northeast People's Choice Award, which is given to the top candidate selected by peers in the security industry. Cast your vote by Sept. 19 for this year's winner; visit:
https://www.surveymonkey.com/s/PCvoting_NE14
Project Nominees:
ADP, Compliance Risk Management Program
AES, AES Global Advanced Threat Protection Solution
Aetna, Aetna Trusted eMail Program
Aetna, SoftwareSecurity Program Implementation
Blackstone, An Ounce of Security Response is Worth a Pound of Prevention: Shifting the Security Paradigm
Blackstone, A Tailored Solution for Access Entitlements
Citi, CitiNAC (Network Access Control)
Dun and Bradstreet, Dun and Bradstreet Brand Protection Project
Comcast, IT Security Analytics
Comcast, Comcast Just-in-Time Sensitive Information Training
Comcast, Advanced Attack Response & Mitigation
Quest Diagnostics, Data Loss Prevention
University of Connecticut, Comcast Center of Excellence for Computer Security Innovation and Center for Hardware, Assurance, Security and Engineering
"From advanced threat protection to email security to the changing security paradigm, this year's project nominees are truly at the forefront of innovation in information security. Additionally, we were thrilled to see that this year's executive nominees are leading cutting-edge security programs and working diligently to cultivate the next generation of CISOs," said T.E.N. CEO & President Marci McCarthy. "We are honored to have them join the ranks of our ISE® Alumni and look forward to celebrating with all of them at ISE® Northeast in October."
The ISE® Northeast Awards recognize executives and projects, which have made a positive impact on their organizations through risk management, data-asset protection, regulatory compliance, privacy and information security. Nominations are sent to T.E.N.'s distinguished panel of ISE® judges for review and scoring.
Cathy Beech, Chief Information Security Officer, Children's Hospital of Philadelphia
Paul de Graaff, Head of Security & Compliance, Weight Watchers
Ray Hawkins, Chief Information Security Officer, Genesis HealthCare Corporation
Robert Mazzocchi, SVP, Information Security Architecture, Bank of America
Donna Nemecek, Vice President, Sr. Information Risk Officer, BNY Mellon
Deb Snyder, Deputy Chief Information Security Officer, NYS Office of IT
John Walp, Administrative VP & Chief Information Security Officer, M&T Bank Corporation
Larry Wilson, Chief Information Security Officer, University of Massachusetts
All nominees will be recognized at the ISE® Northeast Executive Forum and Awards on Oct. 9, 2014 at the Westin Times Square in New York, NY. Event attendees can earn up to 5 CPEs for participating in the Executive Forum, which will offer dynamic presentations and engaging roundtable discussions — lead by ISE® Alumni —highlighting a spectrum of the industry's most critical issues and innovative best practices. Finalists and winners are announced at the awards gala that evening and recognized through press coverage and inclusion on the T.E.N. and ISE® websites.
The event is made possible by gigabyte sponsor, Adobe; kilobyte sponsors: Agari, BitSight Technologies, Damballa, General Dynamics Fidelis Cybersecurity Solutions, HP Enterprise Security, Intel Security, NetIQ, Norse, Qualys, SafeNet, Symantec, Tenable, ThreatTrack and Veracode; and display sponsors: Axway, Click Security, Imperva, Intralinks, Invincea and Solutionary. Read more online: http://ten-inc.com/ise/northeast/default.asp
About T.E.N.
T.E.N., a national technology and security executive networking organization, facilitates peer-to-peer relationships between top executives, industry visionaries and solutions providers. Nominated for numerous industry awards, T.E.N.'s executive leadership programs enable information exchange, collaboration and decision-making. Its flagship program, the nationally-acclaimed Information Security Executive® (ISE®) of the Year Program Series and Awards, is North America's largest leadership recognition and networking program for security professionals. Other offerings include The ISE® Lions' Den & Jungle Lounge, T.E.N. Custom Programs and the ISE® Industry Expert Advisory Services, empowering IT solutions providers to gain access to highly credentialed IT business veterans' expertise. For information, visit http://www.ten-inc.com.
About ISE® Award Program Series
For more than a decade, the Information Security Executive® (ISE®) of the Year Award Program Series has empowered security executives and their project teams to Connect, Collaborate and Celebrate. Recognized as the industry's most prestigious IT Security award program, it has become the most anticipated award program for security executives and their project teams. Winners have included executives and project teams from leading organizations such as Nike, The Walt Disney Company, the United States Postal Service, Schlumberger, Texas Instruments, JPMorgan Chase & Co., Equifax, Comcast, PayPal, Northrop Grumman Corporation, and Nationwide.
Our distinguished ISE® Judges are past nominees representing a cross section of industries, including commercial, government, health care and academic sectors. For this reason, the ISE® Awards represent the best achievements of the year as evaluated by those regarded as the industry's most influential and successful thought leaders. Coupled with a one or two-day executive summit, the ISE® Awards are held across the country and Canada in major cities including Atlanta, Dallas, New York, Toronto, San Francisco and Washington, D.C. The ISE® Awards Program Series has reached more than 10,000 executives across a broad range of industries and has been a major influence in executives' careers, knowledge sharing, and the development of peer-to-peer relationships.