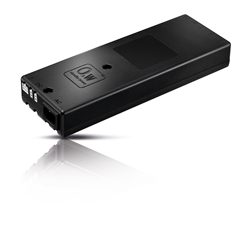 Guderup, Denmark (PRWEB) September 12, 2014
LINAK has been present on the desk market for decades, which means they have an abundance of skills and expertise. By combining this knowledge with innovation and enthusiasm, LINAK engineers have developed a compact control box containing a bundle of standard features –setting a new standard," says John Frost Vice-President and General Manager of DESKLINE.
The CBD6S generation of control boxes maintains LINAK hallmarks: high quality, superb performance, pleasant sound, plug and play, – and combines this with a compact design and new standard features.
The compact design is realised via SMPS (Switch Mode Power Supply) technology and results in control boxes that weigh down to 400g and are shorter and lower than previous models, all ensuring optimised logistics and handling.
With the environment in mind, the CBD6S features "ZERO™ technology" like the previous DESKLINE control boxes. End-users profit from the "ZERO™ technology" – as all variants of the control box only use 0.1W per hour in standby power consumption.
LINAK green focus means that engineers are constantly improving the environmental impact of the final product. -This is why the CBD6S is a PVC-free product as standard.
This control box is so lightweight that it offers new ways of mounting. The light weight and small size requires only one screw for mounting allowing fast and easy mounting. Furthermore, LINAK has changed the placement, colour and angle of the plugs, for better ergonomics and easier mounting and recognition.
Motor cable connections are placed in each end of the control box ensuring a shorter distance to the columns and allowing the use of shorter cables. For improved cable management and strain relief LINAK has designed cable grooves in the bottom of the box.
The CBD6S series holds 2 variants, a compact basic version that can control either a single or a 2-parallel desk. The basic version comes as a 230V version for use in Europe and Australia and as a 120V version for use in the USA and Japan.
The CBD6S also comes in a more powerful variant (300W version) that ensures optimised parallel drive for 2, 3 or 4 legs. The 300W version has universal input, which means it can be used worldwide allowing the desk manufacturer to use the same control box for all desks – no matter to which countries they export them.
It is easy to combine the energy-saving control boxes with all DESKLINE components - simply plug and play to create an innovative electric actuator system.
For further information, please contact your local LINAK subsidiary or distributor.
LINAK is the world leader in designing and manufacturing linear actuators and electronic controls for a variety of applications such as hospital beds, patient lifts, office desks, leisure beds, harvesters and many other applications in the industry.
LINAK is a global company with subsidiaries all over the world and production facilities in Denmark, the USA, Slovakia and China. LINAK employs approximately 1600 employees and has a turnover of around DKK 2.4 billion.