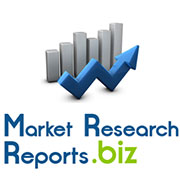 Global And China Wafer Foundry Industry Report, 2013-2014
(PRWEB) September 11, 2014
Global and China Wafer Foundry Industry Report, 2013-2014 is all about the followings:
Overview of Global Semiconductor Industry
Downstream Market of Wafer Foundry Industry
Wafer Foundry Industry
Semiconductor Industry in China
13 Key Wafer Foundry Vendors
The wafer foundry market experienced a wavy development, jumping by 39.4 Percent in 2010 following a 7.9 Percent decline in 2009. And the growth rate first shrank to 8.7 Percent in 2011, then expanded to 21.7 Percent in 2012, and fell back to 6.8% in 2013. It is projected that the growth rate will stand at 15.6 Percent in 2014 and 6.0 Percent in 2015. The fluctuation in the wafer foundry market will begin to present an increasingly small growth rate, which is mainly because oft the differentiation in wafer foundry industry.
Browse Full Report with Toc: http://www.marketresearchreports.biz/analysis-details/global-and-china-wafer-foundry-industry-report-2013-2014
In terms of product type, foundry can be divided into two categories: Logic IC Foundry and specifically Foundry. The former is mainly comprised of high-shipment Logic IC, including CPU, GPU, Baseband, Application Processor, FPGA, APU, PLD, Networking Processor, and DTV MPU, etc. And the latter primarily consists of analog IC, mixed signals, Power IC, NVM, RF/HPA, CIS, MEMS, DDI (Display Driver). For the former, it is necessary to continuously improve manufacturing process and constantly narrow the line width, which could not only improve performance and reduce power consumption, but also reduce costs. These products update quickly, with the life cycle typically no more than three years, which requires a massive fund for developing next-generation technologies. As for the latter, however, its products have a long life cycle, with the life cycle for analog IC generally exceeding 5-10 years. And even a more than 20-year life cycle is not rare. These products can narrow line width but fail to reduce costs, and could increase costs instead. The specifically Foundry has a small market size and stable sales volume, but with low costs and high returns. In contrast, Logic IC Foundry has a large market size, but with a considerable fluctuation.
According to the nature of the vendors, the foundry businesses can be divided into two segments, namely, IDMs offering their excess capacity to third parties and pure-play (or dedicated) foundries, with the former including Samsung, Intel, and IBM. Global Foundries can be barely included in IDMs, for it originated from AMD. These vendors have long product lines, which makes it possible to cause competition with their customers. And IDMs, in reality, are not involved in foundry businesses and could conduct foundry business only when they have excess capacity. These IDMs will not become the first choice of the customers unless special reasons.
For Download Full Report with Toc: http://www.marketresearchreports.biz/sample/sample/222984
Money and technology do not always help do well in wafer foundry industry, which has been best illustrated by IBM. Recently, IBM was willing to pay USD1 billion for the sale of its wafer foundry business to Global Foundries. And Global Foundries suggested that the payment was very small and should be expanded to USD2 billion due to the fact that the business, which generates revenue of less than USD500 million annually, caused IBM to suffer approximately USD1.5 billion loss a year. Except TSMC, most foundries have more or less bought IBM's technology, especially Samsung, STMicroelectronics, and Global Foundries, which are all technologically brought up by IBM.
Over the years, the four giants—Samsung, STMicroelectronics, Global Foundries, and IBM have formed an alliance in a vain attempt to compete against TSMC. Instead, TSMC has grown stronger and stronger. After years of efforts, Samsung has won a client in wafer foundry business—Apple. Unfortunately, the order of Apple's main products A8 was gained by TSMC in 2014, thus leading to the first loss of Samsung System LSI Division over the years.
Although Samsung's 14nm technology seems to take the lead, this is not approved by Apple. This is mainly because the four companies—Samsung, STMicroelectronics, Global Foundries, and IBM all developed from IDM. And Samsung has a long product line and therefore could compete with any electronic company in the world. Previously, Apple did not choose TSMC because the company suffered capacity constraints, and as TSMC's capacity was expanded and met Apple's requirements, Apple lost no time in making a shift from Samsung to TSMC.
Find More Semiconductors Market Research Reports: http://www.marketresearchreports.biz/category/63
About Us
Marketresearchreports.biz [http://www.marketresearchreports.biz/ is the most comprehensive collection of market research reports. Marketresearchreports.biz services are especially designed to save time and money of our clients. We are a one stop solution for all your research needs, our main offerings are syndicated research reports, custom research, subscription access and consulting services. We serve all sizes and types of companies spanning across various industries.