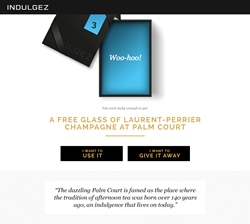 Participants redeem the promoted products & services at a much higher rate than current online promotions
London, UK (PRWEB UK) 23 September 2014
Indulgez, the daily gifting business, announces their launch in the USA and UK today.
The daily gift concept - - where an individual receives an email every morning with a link to a choice of 3 boxes for a chance to win a gift from a brand - - has been running successfully across the Scandinavian markets (Iceland, Sweden, Norway and Denmark) for the last 5 years.
The launch of Indulgez brings this successful concept to the USA and the UK for the first time.
Founded by serial internet entrepreneur Andrew Mitchell, the concept injects an element of fun and surprise with a mechanic that encourages users to come back every day in order to get their daily gift.
Users are sent a simple email in the morning with a link to a choice of 3 boxes. They click one, and if successful they get a gift - a flight ticket, a free bottle of wine at a restaurant or a 2 for 1 on cinema tickets. The gifts are a mixture of offers and experiences offered by partners.
According to founder Andrew Mitchell, "Indulgez gives our brand partners an opportunity to give consumers something of real value which they look forward to receiving every morning. We find that participants redeem the promoted products & services at a much higher rate than current online promotions and remain engaged with Indulgez for as long as 5 years and counting in Iceland."
Andrew Mitchell knows a thing or two about this market. He founded the first online daily gift site in Iceland and currently the largest of its kind in Scandinavia.
Andrew has big ambitions for Indulgez. Andrew shared, "The USA and the UK are big markets, with the big promotional budgets and big appetites to try new online ideas. Our plan is to deliver this daily gifting concept - - at scale - - across the USA and UK, then translate Indulgez for non-English markets across the globe in 2015."
To sign up to receive your daily email, go to http://www.indulgez.co.uk and register your details.
For more information about Indulgez please contact us at david(at)indulgez(dot)co(dot)uk