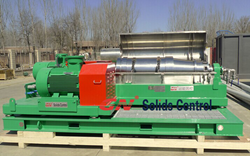 Houston,Texas (PRWEB) September 12, 2014
GN Solids America focus on the liquid and solids separation, recently, GN Solids America designed the new slurry separation plant for TBM drilling mud cleaning. It allows the contractor to get clean water from the TBM slurry for reuse in the TBM project. This saves a lot of money for the waste disposal cost. This plland also can recover drilling fluids for the drilling projects.
A tunnel boring machine (TBM) also known as a "mole", is a machine used to excavate tunnels with a circular cross section through a variety of soil and rock strata. TBM can bore through anything from hard rock to sand. Tunnel diameters can range from a metre (done with micro-TBMs) to 19.25 m to date. The TBM industry use a similar technology like in the oil gas drilling. TBM utilize the drilling mud for the projects for cooling and sealing the hole. To recycle and reuse the drilling fluids, TBM needs the slurry separation plant to clean the drilling fluids. Tunnels of less than a meter or so in diameter are typically done using trenchless construction methods or horizontal directional drilling rather than TBMs.
GN Solids Control designed the TBM slurry separation system for contractors to get clean water for reuse in the TBM project.
Part 1) Primary Slurry Separation Plant
The primary slurry separation plant is for separation solids upper of 45microns. GN primary slurry separation plant include following solids control equipment.
1.1) Double Deck Shale Shaker
Model: GNZS706E-HB
Vibrating mode: Linear Motion
Motor power: 2x1.94 KW (Italy OLI, 2.5hp)
Vibrating strength: ≤7.0 G
Deck number: 2
Screen area: Up deck: 2.13 Square Meter, Lower deck:2.63 Square Meter
Deck angle adjustment: Minus 1 Degree to 5 Degree.
Upper Screen Spec: 3x750x900mm with Opening 2mm
Bottom Screen Spec: 3x700x1250mm with Mesh API 40
Max Treating capacity: 300m³/h
Weight: 1742 kg
Dimension: 2717x2012x1413 mm
Feeding box type: Weir Back type feeder
1.2 ) Desander Cleaner
Model: GNZJ703E-3S
Desander Cones: 10"x3ea
Max Capacity 360m³/h
Matching Shaker: GNZS703E
Vibrating Mode: Linear Motion
Motor Power: 2×1.72kW(Italy Oli Brand Motor)
Vibrating strength: ≤7.0 G
Deck angle adjustment: Minus 1 Degree to 5 Degree.
Screen area: 2.63 Square Meter
Screen Specifications: 3 panels (750mm*1250mm; API200)
Starter magnetic force starter
Weight: 1846Kg
Dimension: 2419x2113x2147mm
Besides the above two major solids control equipment, there are mud tanks, centrifugal pumps,
mud agitator as well a mud tank attachments for the primary slurry separation system.
Process for the Primary Slurry separation system is as below:
The dirty slurry comes from the TBM and feeds to the GNZS706E-HB shale shaker top layer screen for separation of solids bigger than 2mm, and the fluids go through the top layer screen to the bottom layer screen to separate solids of 400 Microns.
Later on, a centrifugal pump takes fluid from the mud tank first compartment to feed to the 3x10inch desander cones on the GNZJ703E-3S shale shaker. This is the third phase separation for solids bigger than 45 microns.
After the desander, the fluids will go to the second compartment of the mud tank.
Part 2) Slurry Dewatering Centrifuge Separation.
The slurry dewatering centrifuge separation unit is a 40 FT containerized system for separation fine solids from the drilling fluids. It consists of following main equipment and device.
2.1) Big Bowl Big Volume Decanter Centrifuge
Model: GNLW553-VFD
Bowl Diameter 550mm(22inch)
Bowl Length 1800mm(71inch)
Max. Capacity 484GPM(110m3/h)
Typical Capacity 400GPM(90m3/h)
Max Bowl Speed 3000RPM
Typical Bowl Speed 0~2500RPM
G-Force 1888 @ 2500RPM
Separation point 2~5μm
Main Motor 90KW(50HP)
Back Motor 37KW(15HP)
Recommended pump 30 HP
Material: Duplex SS2205 for Bowl and SS316L for Screw Propeller
Screw Protection: Tungsten Alloy Tile Protection
Solids Discharge Port: Interchangeable Tunsten carbide alloy
Control Panel: Stainless Steel with ABB VFD
The decanter centrifuge has the PLC Control System with Touch Screen to control bowl speed, differential speed, feeding pump speed and flow. More over, the VFD is available for control flucculent pump speed and flow. Password is required to operate the touch screen. And locking system is provided for operation the touch screen with keys. Flow meters of centrifuge feeding line and flocculent feeding line will send signal to the PLC control system to prevent the pump from dry suction.
2.2) Double Chamber Flocculation Unit
Model: LR-6000P
Effective Volume: 6000L in two Chamber
Max dry powder 20 Kg/Hr
Feeding by adjustable speed screw conveyor
Material PP
Funnel volume: 30 L
Dimension: 4000 mm X 1500 mm X 1200 mm
If Grow time 30min, for 0.3% polymer, mixing capacity 6000l/hr
Power: 5.0kw, 2 chamber, with low speed agitator
PLC control panel, automatic and manually controls feeding screw pump, water pump, motor valves
The process of the Slurry Dewatering Centrifuge Separation is as below:
The Double Chamber Flocculation Unit will mix chemicals for the flocculation of the drilling mud took from the second compartment . And later on, the slurry and the polymer will be mixed and feed to the big bowl big volume decanter centrifuge.
The VFD decanter centrifuge have G force up to 2000 G, this G force is able to separate the fine solids in the drilling mud and discharge clean water for reuse in the TBM project.
GN Slurry separation plant is widely used in the TBM, and horizontal directional drilling and (HDD) mud recycling.
Contact GN Solids America
Tel:+17138780880
Web: http://www.gnsoldisamerica.com
Add:6710 Windfern Road, Houston, TX 77040,USA