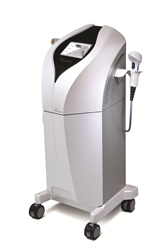 Driven by our proprietary SVC™ technology, with Canada Health approval, V-touch will provide physicians with an ideal alternative for patients
Jersey City, NJ (PRWEB) September 10, 2014
Viora, a leading provider of medical aesthetics solutions, is pleased to introduce V-touch™, an innovative Fractional RF device for skin rejuvenation, skin resurfacing, skin tightening and scar reduction. Utilizing advanced SVC™ technology, developed by Viora, V-touch breaks through existing limitations in fractional RF devices and ensures that physicians can now provide minimally invasive, safer, less painful, and more effective treatments to their patients. V-touch is certified by Health Canada, and will be shown at the 41st Annual Meeting of Canadian Society for Aesthetic Plastic Surgery (CSAPS), September 19-20, at the Hilton Hotel, in Toronto, Booth #8.
Groundbreaking Technology
The proprietary RF technology behind V-touch is SVC™ (Switching, Vacuum, Cooling), which delivers superior results for complete and safe skin resurfacing, renewal and skin tightening. With these advancements, V-touch offers increased control to physicians, delivering unprecedented penetration depth control therefore allowing them to determine the desired biological response, all within one device. Viora recognizes the importance to enable practitioners to regulate pulse durations during treatments is groundbreaking in fractional RF procedures. The ability to choose an ablative or coagulative solution within a single system gives practitioners a significant clinical advantage in customizing their treatments per individual patients, per specific needs.
V-touch Launch – CSAPS, Booth #8
In addition to the new V-touch system, Viora will be showcasing a full range of non-invasive solutions for practitioners, for a wide range of medical aesthetic treatments for face and body. Other Viora products on display include:

Reaction™, FDA-cleared multi-frequency bi-polar RF system with proprietary CORE™ technology for body & facial contouring, cellulite reduction & skin tightening
Infusion, the pain-free, needle-free electromesotherapy device for numerous skincare treatments including hydration and rejuvenation, skin lightening and blemish reduction
Trios™, advanced IPL for acne clearance, hair removal & skin rejuvenation
Pristine™, the award-winning diamond-tip microdermabrasion system for exfoliation and pre-treatment skincare
"Viora is thrilled to introduce V-touch to the Canadian market, giving practitioners access to this fresh take on fractional RF treatments," said Eliran Almog, CEO, Viora Canada Ltd. "Driven by our proprietary SVC™ technology, with Canada Health approval, V-touch will provide physicians with an ideal alternative for patients that are searching for safer, less painful, and more effective solution for their skin care needs."
About Viora
Viora is a market-leading aesthetic solutions provider for skincare applications for patients seeking the most advanced developments for the most requested treatments: rejuvenation, resurfacing, body & facial contouring, skin tightening, cellulite reduction, acne control, lightening, hydration, hair removal, exfoliation and more. Viora's expertise in developing solutions and technology for these applications ensures greater physician and client satisfaction. Viora's extensive knowledge and experience is forged from its expansive and deep connections to the aesthetic community and has allowed Viora to create the most sought after solutions, and achieve the most effective results. For more information, visit http://www.vioramed.com.