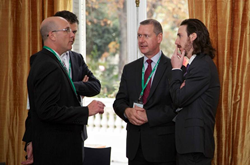 'The functional capacity of a 44 year old cell is not as good as that of a 6 year old but that does not mean that they have no value'
(PRWEB UK) 11 September 2014
Without doubt the best stem cells are those found in the baby teeth of young children.
Why? Apart from their unique ability to morph and change into other stem cells, thus treating a far wider range of illnesses and conditions, mesenchymal stem cells can proliferate outside the body, and where children are concerned no tooth extraction is needed as they fall out naturally. Above all it is important to remember that the best type of cells are those which are young, and therefore have not been contaminated by a lifetime of use and exposure.
So does that mean for adults there is no hope for stem cell retrieval from their adult teeth and little chance of success if they are needed in stem cell therapy?
'Not necessarily', says Mike Byrom, Chief Scientific Officer at specialist tooth stem cell bank, BioEden.
'Stem cell therapy is not a black and white type of event. There are varying degrees of success based on many factors of which the capacity of the cells is one. The functional capacity of a 44 year old cell is not as good as that of a 6 year old but that does not mean that they have no value. Our requirements for storing material mean that the cells demonstrate acceptable growth rates, expected cellular morphology and growth characteristics which indicate their ability to differentiate into tissue specific lineage cell types. If the cells do not meet our minimum criteria for usefulness we will not store them.'
Aside from these tests we cannot make any specific guarantees about the cells usefulness. Adults should not be put off attempting to store their stem cells and can have faith that if we successfully complete the process of stem cell extraction then the cells are of high enough quality to be useful should they be required.
BioEden do not make any charge for the process of harvesting stem cells where no viable stem cells can be found.