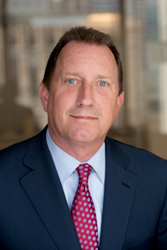 I believe it is important to give back to the legal community
Chicago, Illinois (PRWEB) September 10, 2014
Salvi, Schostok & Pritchard P.C. is pleased to announce that partner Jeffrey J. Kroll has been recognized for his volunteer work in the legal field. The Illinois Institute for Continuing Legal Education (IICLE) has named Mr. Kroll its 2014 honoree for the Publications Volunteer of the Year Award.
Mr. Kroll was selected for the special recognition by IICLE staff. Each year, the non-profit corporation dedicated to the professional development of Illinois attorneys selects one volunteer from each department to be honored. He was previously named a 2008 honoree for the Programs Volunteer of the Year Award.
"I am honored to receive this volunteer recognition," said honoree Mr. Kroll. "I believe it is important to give back to the legal community and I am glad to share my experience and what I have learned as a trial lawyer."
Mr. Kroll has written for multiple Illinois Institute for Continuing Legal Education publications over the past decade. IICLE staff members say Mr. Kroll regularly goes "above and beyond" and steps in to assist when other volunteers miss deadlines. This year he served as the editor for the publication titled "Proving Fault in Auto Accident Cases." He wrote five chapters in the book on how to handle automobile collision cases. Mr. Kroll has also been an author for IICLE Flashpoints since 2012 and has contributed to "Illinois Civil Discovery Practice" and "Inside & Outside the Jury Box: Effective Trial Strategies."
Mr. Kroll joined Salvi, Schostok P.C. in Chicago in 2013 after representing injured victims of negligence for more than two decades. He concentrates his practice in plaintiffs' personal injury trial work, representing victims of Trucking Accidents, Products Liability, Medical Malpractice and Transportation Negligence. Mr. Kroll has lectured on more than 140 occasions throughout the country and has more than 75 articles published in legal journals.
About Salvi, Schostok & Pritchard P.C.
Salvi, Schostok & Pritchard P.C. is a leading Chicago personal injury firm with offices in Chicago (22 West Washington Street, Suite 1600, Chicago IL 60602) and Waukegan (218 North Martin Luther King Jr. Avenue, Waukegan, IL 60085). In addition to representing clients in catastrophic personal injury, medical malpractice, aviation and product liability cases, the firm focuses on car and truck accidents, airplane and train accidents, construction injuries, birth injuries, brain injuries, unsafe properties and animal attacks. The firm has obtained more than $900 million on behalf of its clients in personal injury and wrongful death cases, including 200 multi-million dollar verdicts or settlements. For more information, call (312) 372-1227.