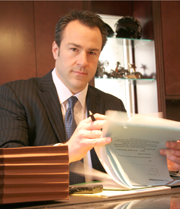 If you own one of the affected bikes, or you think you might, I suggest leaving your bike at home until you are able to get it inspected or repaired, for safety's sake.
Detroit, MI (PRWEB) September 10, 2014
Over the last 20 years, Motorcycle Accident Attorney Jason Waechter has helped many motorcycle accident injury victims and their families. Waechter is committed to giving back to the biker community and trying to help prevent crashes if possible.
That's why he is spreading the word today about a Honda recall affecting about 126,000 Gold Wing touring bikes. According to the National Highway Traffic Safety Administration (NHTSA) recall website, safercar.gov, the issue with the recalled bikes is that the rear brake may continue to drag after it is released. This could potentially cause a crash. Driving with the rear brake dragging could also generate enough heat to start a fire, potentially endangering the rider.
The affected motorcycles include GL1800 models from 2001 to 2010, GL1800 models from 2012, as well as GL1800A models from 2001 to 2005. "If you own one of the affected bikes, or you think you might, you can contact Honda's customer service line at 1-888-327-4236," advises Waechter. Motorcyclists who have been injured in a crash are advised to contact an experienced lawyer, particularly if they believe the crash could be related to this recall.
Honda's Gold Wing has had similar brake issues before; recall 11V-567 in 2011 was also related to brake drag in Gold Wing bikes. "If your bike was repaired under the 2011 recall, you are likely going to have to have it repaired again under this new recall, according to NHTSA," says Waechter. "It's unfortunate to have to take your bike in for the same problem, but hopefully this will resolve the issue once and for all."
"At this point, Honda hasn't announced the details of how they will fix the problem," says Waechter. Owners will be getting a letter explaining how they can check their brakes to see if they are dragging, and Honda will contact them once a fix is available. "Unless you are sure that your brakes are not dragging, I suggest leaving your bike at home until you are able to get it inspected and repaired if necessary."
####
Attorney Jason Waechter has spent two decades cementing his reputation for results. Over the years, he has specialized his practice to motorcycle accidents. Jason has fought tirelessly for accident injury victims and contributed significantly to safety education and accident prevention. He has entrenched himself as one of the nation's premier lawyers. If you or a loved one has been injured in an accident, call 1-800-708-5433 to speak with a lawyer who can help.