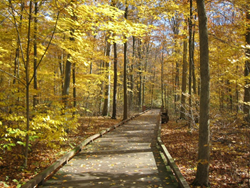 From toddlers to retirees, there's something for everyone to enjoy in the Great Smoky Mountains.
(PRWEB) September 11, 2014
Fall is the perfect time of year to visit Pigeon Forge, Tennessee, and it's easy to see why: Mild weather, sunny skies and a vivid hues make the mountains magical during this wondrous season.
Statistics from the National Park Service show that visitation to the Great Smoky Mountains National Park in autumn has risen steadily in the past few years with more than 1.3 million people expected to visit the park in October 2014 alone. Jessica Bookstaff Doppelt, of PigeonForge.com, is thrilled to welcome the influx of fall visitors to her Smoky Mountain city and invites them to check out all the attractions, cabins & hotels, theaters and restaurant options they'll find along the Pigeon Forge Parkway and beyond.
"Fall is a perfect time to experience the best of the Smokies," Doppelt says. "No matter whether you plan on taking in the season's sights and colors from a tree-top zipline or from the front porch of a peaceful cabin rental, I promise that you'll fall in love with Pigeon Forge this time of year."
Doppelt encourages those planning fall Pigeon Forge vacations to check out her website, online at http://www.PigeonForge.com. She's worked with a wide variety of local partners to perfectly curate a collection of information relevant to visitors of all ages and interests, and encourages folks to use her site as an Ultimate Fall Vacation Guide when planning their vacations.
"From toddlers to retirees, there's something for everyone to enjoy in the Great Smoky Mountains," she said.
Doppelt's favorite way to experience fall in the Smokies is by taking a scenic hike or nature walk with her family. There are more than 850 miles of trails in the Great Smoky Mountain National Park, offering you a chance to take in picturesque views and see Mother Nature up close and personal. The Abrams Falls Trail is a personal favorite, she says.
Even if hiking isn't on the agenda, Doppelt suggests other ways to experience fall in East Tennessee. She recommends that visitors cruise through one of the recommended scenic drives in the Smoky Mountains mentioned at PigeonForge.com or even see the colors with a special vintage charm from the windows aboard a train car on the Smoky Mountain Railroad.
If you're looking for something different to enjoy, Doppelt recommends combing through the list of Pigeon Forge vacation reviews and recommendations you can find Off the Beaten Path. This list features first-hand reviews from visitors to a variety of Pigeon Forge attractions that offer true local flavor, ranging from stops on the Rocky Top Wine Trail to petting zoos to unique dining experiences.
If you're still looking for ideas and things to do in the Smokies this fall, Doppelt encourages you to check out the PigeonForge.com blog. Here you'll find in-depth features on area happenings and events, along with information about activities, lodging and more.
###
About PigeonForge.com:
Jessica Bookstaff Doppelt has helped thousands of people plan Smoky Mountain vacations since she launched PigeonForge.com in 2000. She grew up in Pigeon Forge and consider the Great Smoky Mountains her home. She is happy to share all the great things about the area and help you enjoy a perfect getaway through her website where you can easily browse lodging, attractions, restaurants, wedding information and more. For additional information, visit http://www.PigeonForge.com or follow PigeonForge.com on Facebook and Twitter.