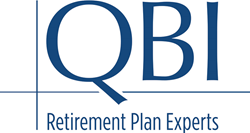 We appreciate the relationships and stature they enjoy in Orange County and we're going to work hard to help support them with the industry's best resources and team, QBI's President and Chief Executive Officer Nick Stonnington
Woodland Hills, CA (PRWEB) September 10, 2014
QBI, a leading provider of administration and consulting services for qualified retirement plans, is pleased to announce the hire of industry veterans Peter Stephan, AIF and Jim Norman, QPA, ERPA to lead business development in Orange County, California.
Stephan and Norman co-founded The Pension Group, Inc. in Laguna Hills, CA and grew the firm until selling to United Retirement Plan Consultants (URPC) in 2008. Both stayed on as business executives with URPC before joining QBI. Peter Stephan, QBI's new Executive Vice President, focuses on small to mid-market pension/401(k) plan design opportunities while Jim Norman, QBI's Chief Consulting and Finance Officer, adds technical expertise on tax-focused strategies offered in defined benefit, cash balance, and other advanced plan designs. They work in tandem in supporting financial advisors, CPAs, and other professionals interested in growing their retirement practice.
The timing of these new hires reflect QBI's new strategic growth plan championed by President and Chief Executive Officer Nick Stonnington who also recently brought aboard Risë Spiegel, APA, another industry executive, as Chief Operations Officer. On this latest move, Mr. Stonnington noted, "We're excited about extending our presence into the Orange County area and couldn't be more delighted than to have the experience and entrepreneurial energy of Peter Stephan and Jim Norman to lead us there. We appreciate the relationships and stature they enjoy in Orange County and we're going to work hard to help support them with the industry's best resources and team."
Peter Stephan and Jim Norman are based in QBI's Orange County offices. Reach them here:
Peter Stephan (949) 373-7803 pstephan(at)qbillc(dot)com
Jim Norman (949) 373-7801 jnorman(at)qbillc(dot)com
About QBI, LLC
Founded in 1974, QBI, LLC, is the largest retirement plan administration and consulting firm in Southern California serving more than 3,000 clients. QBI supports investment professionals and their clients with expert design and administration of 401(k), 403(b), Defined Benefit / Cash Balance, and ESOP plans. For more information, visit http://www.qbillc.com.