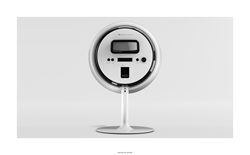 My patients can easily point out what visibly concerns them during a consultation...it's important to have patients see what's going on underneath the skin, which they cannot see.
New York, NY (PRWEB) September 11, 2014
Russak Dermatology Clinic is one of the first practices to introduce the SkinScope LED, a portable, full-face diagnostic tool, in the United States. "We are honored and thrilled to offer this state of the art technology to our patients. Being that we are one of two offices in The United States to have this device, it's truly momentous for our practice."
The SkinScope LED builds on the tradition of the wood's lamp science, while incorporating a new, more precise UV-light visibility. The device was developed for skincare professionals to help educate their clients on the importance of proper skincare. The SkinScope LED includes two light modes: Daylight, and LED-UV, and allows for the use of any smartphone to document the consultation with a universal smartphone adaptor. While some skin concerns and imperfections are visible in everyday light, some are only visible under UV light, which highlights damage beneath the skin's surface by detecting skin's fluorescence. The SkinScope LED has two light modes: simulated Daylight mode for reviewing visible skin conditions and concerns, and a LED-UV light mode for reviewing skin fluorescence (emitted at 320- 365nm). Solid-state UV emitters, dispersed by six polished chrome mirrors, produce the Daylight and LED-UV lights.
"My patients can easily point out what visibly concerns them during a consultation. I think it's important to have patients see what's going on underneath the skin, which they cannot see. The SkinScope LED allows my team and I to fully treat my patients skin from the inside out," says Julie Russak, MD.
The simulated Daylight mode allows for the clear illumination of 'visible' concerns to the patient and skincare professional. The skincare professional conducting the SkinScope LED consultant can pinpoint what concerns the patient has and can highlight areas of redness, irritation, visible dryness, oiliness, wrinkles, and pigmentation. The LED-UV mode illuminates sub-surface imperfections visualized by the fluorescence of the skin. This exposes concerns that may be faintly visible in daylight but are emphasized under UV light. While healthy skin reflects back UV light creating a blue glow, melanin in the skin absorbs the light showing as dark spots on the surface of the face. Similarly, congested pores give off pink or orange fluorescence; oily skin is visible in a yellow color, and dry flaky skin shines as bright white. Large patches of darker blue indicate areas of thinner, dehydrated skin.
"Today's clientele are technology driven, and a diagnostic tool really appeals to them. It helps validate the skincare professionals' expert opinion," says Julie Russak, MD. The SkinScope LED offers multiple diagnostic options with purer light capabilities by removing the purple 'haze' of visible light emitted by wood's lamp bulbs
A SkinScope LED consult usually consists of cleansing the skin, and then having the patient sit under the daylight and LED settings. A photograph is then taken in both diagnostic modes, which can help track the progress of clinical skincare and treatments overtime. "One of the most important aspects of aesthetic dermatology is providing impressive before and after photos," says Dr. Russak. "Seeing that the skin has not only changed visibly, but also on a deep cellular level, only made visible via LED-UV light, assures the patient the quality of treatments we are offering to them." The SkinScope LED is an added tool to help the skincare professional not only recommend appropriate skincare regimens and procedures, but also convey progress to their clients over time.
About Julie E. Russak, M.D.
Dr. Russak is a board-certified dermatologist, a Fellow of the American Academy of Dermatology, and a member of the American Society of Dermatologic Surgery. She graduated with honors from New York University School of Medicine and completed her dermatology residency at the Dartmouth Hitchcock Medical Center, where she served as chief resident. She completed an Oncology Melanoma Fellowship with world-renowned melanoma expert Darrell Rigel, M.D., and is the recipient of the Marianne Salzberg Award in Dermatology and the Jonas E. Salk Scholar Award. In addition to having a thriving practice, she is an assistant clinical professor at Mount Sinai Hospital, where she teaches dermatology residents and medical students.
Contact
For more information about Julie E. Russak, M.D., and Russak Dermatology Clinic, visit russakdermatology.com or follow her practice on Facebook and Twitter (@RussakDerm). To interview or make an appointment with Dr. Russak, contact Juliet Cavallaro at juliet(at)russakdermatology(dot)com or (646) 873-7546.
About SkinCeuticals
SkinCeuticals line of advanced skincare products is designed to help: prevent future damage to skin; protect healthy skin and correct signs of previous damage. Products are available through dermatologists, plastic surgeons and licensed skincare professionals in over 23 countries worldwide. Founded in Dallas, TX in 1997, SkinCeuticals discovers, develops and delivers an advanced line of scientifically-backed cosmeceutical treatments. As leaders in antioxidant and sun protection technology, SkinCeuticals products have been shown to dramatically improve skin health by protecting skin from environmental damage and visibly improving skin clarity, tone, and texture to minimize the appearance of fine lines and wrinkles. For more information about SkinCeuticals, call 1-800-811-1660 or visit http://www.SkinCeuticals.com. Follow SkinCeuticals on Twitter and Instagram: @SkinCeuticals.