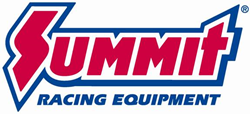 Tallmadge, OH (PRWEB) September 24, 2014
Most tonneau covers make it difficult to use the bed when it's time to haul the big stuff. Extang's eMax Tonneau Covers eliminate that issue by folding up snugly against the truck cab when necessary.
Based on the popular Trifecta cover, the eMax adds features like quick-release Speed Klamps, WeatherTuff seals, double-pivoting MaxHinges, and high-strength I-beam bows. All contribute to a strong, durable cover that's easy to fold up, offering access to the entire truck bed at a moment's notice. For extra security, the covers use Extang's exclusive Secure Shut latching system to keep them locked in place.
Extang's eMax Tonneau Covers are available for most late model domestic full size trucks, both short and long bed.
See Extang's eMax Tonneau Covers at Summit Racing
Summit Racing Equipment
http://www.SummitRacing.com
1-800-230-3030