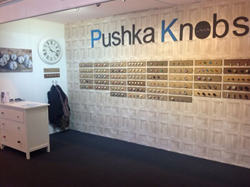 (PRWEB UK) 11 September 2014
The event will be packed with over 300 exhibitors, offering a wealth of exciting interior design ideas. Located on stand J73, the Pushka team will be on hand to offer professional advice & design tips. Discover the inspiring ways that the extensive range of ceramic, mortice, granite & crystal cut glass knobs can enhance and reinvigorate any home, even on the smallest of budgets.
Whether it's a sizeable home renovation project on the go, updating an individual room, or simply revitalising a tired piece of furniture, find out how accessorising with Pushka Knobs can transform a home. From achieving a sleek and modern feel with the new monochrome geometric pattern knobs to reflecting the homely country garden look with the pastel tones of the ceramic knob range, there is something at Pushka's stand to suit every style of home.
With over 400 exquisitely designed knobs and hooks to browse, see how Pushka Knobs can revitalise any living space without breaking the bank. Bring the whole family along and discover the extensive range of easy to use, child-friendly knobs that provide an injection of colour and playfulness into any child's bedroom. With a multitude of designs ranging from the new bold and vibrant colour-block knobs available in a rainbow of colours, to the whimsical animal character knobs, there is something to suit the tastes of every girl and boy.
Grab a ticket to the New London Homebuilding, Renovating and Home Improvement Show to find out how Pushka can help to create a remarkable interior, with the wow factor.