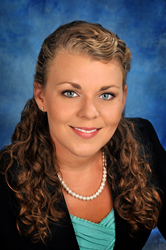 "It's an honor to work on these important projects that are shaping the future of Louisiana's coast." – Jenni Schindler, P.E.
Lafayette, LA (PRWEB) September 11, 2014
Fenstermaker is pleased to announce the advancement of a valued team member who recently passed the State's formal exam and review process to earn the designation of Louisiana Professional Engineer. Ms. Jenni Schindler, P.E., is a Water Resources Engineer and a Hydraulic and Hydrodynamic Modeler in the firm's New Orleans office.
Ms. Schindler attended the University of New Orleans (UNO), receiving a Bachelor of Science in Civil and Environmental Engineering in 2008 and a Master of Science degree in Earth and Environmental Sciences with a concentration in Coastal Science in 2010. Her Master's thesis, "Estuarine Dynamics as a Function of Barrier Island Transgression and Wetland Loss," was exemplary of her previous work and a precursor to her advanced work in coastal research and hydrodynamic modeling.
Ms. Schindler obtained her Engineer Intern (EI) license in Louisiana in January 2009. In January 2011, she joined Dr. Alex McCorquodale and the Fenstermaker firm on the Pontchartrain/Barataria Eco-Hydrology project and was a key member of the modeling team for the 2012 Coastal Master Plan, a groundbreaking planning effort initiated by the State of Louisiana's Coastal Protection and Restoration Authority (CPRA). In August 2012, she was asked to join Fenstermaker and continued to be an integral part of the project team.
Ms. Schindler's experience with the 2012 Coastal Master Plan, gave her the opportunity to manage and execute the Lower Breton and Lower Barataria Sediment Diversion Feasibility Studies for Fenstermaker. These Coastal Protection and Restoration Authority feasibility studies helped to determine the Lower Barataria and Lower Breton diversion size and location to provide optimum sediment / land building for the project. Improvements were made to the eco-hydrology model from the 2012 Coastal Master Plan in the modeling efforts for the feasibility studies. Code improvements were implemented and model compartments were refined to allow for more localized long-term assessments (50 years) of wetland building and nutrient dynamics. For this project, Schindler remained in constant communication and coordination with members of academia, private industry, and state government; conducted model setup including compartment and link delineation and parameterization, input file generation, model code adjustment and testing, and model calibration/validation; directed model execution; analyzed results; created reports; and managed the project progress and budget.
Ms. Schindler has also been selected to work on CPRA's 2017 Coastal Master Plan for the State of Louisiana and is already working as a key member of the eco-hydrology modeling team.
Since 2007, Ms. Schindler's experience has included research, field work, 2-D and 3-D hydrodynamic modeling, barrier island research such as wave modeling, field data collection, sediment transport studies for the Chandeleur Islands, and hydrodynamic modeling and assessment on the Violet Diversion optimization study. Her experience and effective communications skills combined with a professional designation, make her a rising star in the field of coastal engineering.
Fenstermaker is a multi-disciplinary firm specializing in Survey & Mapping, Engineering, Environmental Consulting, and Advanced Technologies. We have over 300 team members providing professional services through multiple office and field locations across the U.S. Our company mission is to be a vital partner in the success of our clients.