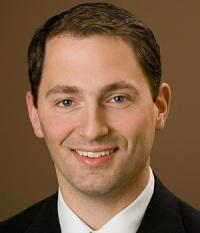 They day they turned on Bill's device was life-changing. He no longer just listened to conversation, he actively participated. The experience prompted Bill to testify before the FDA for approval of the device for widespread use by those with hearing loss.
KANSAS CITY, Mo. (PRWEB) September 10, 2014
During meetings Bill Bisbing would become easily frustrated. It wasn't that he could not hear. In fact, he heard voices just fine. But he struggled to understand individual words and sounds. He no longer heard beeps and noises from equipment used in his work as a senior lead flight simulator technician. He spent less time communicating and more time struggling to understand conversations.
In 2009 a visit to Saint Luke's Midwest Ear Institute provided a solution: they offered Bill an opportunity to participate in a clinical trial for a new hybrid cochlear implant device to replace hearing loss for high frequency pitches, while retaining natural hearing for lower pitches. The day they turned on Bill's device for the first time after surgery was life-changing. He no longer only listened, but began actively communicating at home and work. Bill's dramatic improvement prompted him to testify in 2013 before the FDA for the approval of the Cochlear Nucleus Hybrid Implant System. On March 24, 2014 the FDA approved the implant device for widespread use.
On Tuesday, Sept. 16, 2014 the Midwest Ear Institute will host an information seminar about the new hybrid cochlear implant devices at Saint Luke's Hospital of Kansas City. The seminar will review the types of hearing loss that would most benefit from the innovative technology. This event is free and open to the public. For more information or toregister for the event, please call Saint Luke's Concierge at 816-932-5100 or register online.
"Bill's experience was typical for persons who have high-frequency hearing loss. They become frustrated and withdraw from conversation," said Kristen Lewis, director of clinical services for Midwest Ear Institute. "High-frequency hearing loss is one of the most common forms of hearing loss. The hybrid implant system allows those persons to regain a more complete hearing experience by making sounds crisp, clear and understandable again."
Midwest Ear Institute was one of 10 U.S. sites selected to participate in clinical trials for the device beginning in 2003. It was the only Kansas City group selected.
Hearing aids amplify sound for those with mild to moderate hearing loss, while traditional cochlear implants replace sound for those with severe to profound hearing loss. The hybrid implant device uses acoustic amplification to improve a patient's natural low-frequency hearing, while using cochlear implant technology to restore access to high-frequency hearing.
"Often a person with hearing aids will say that their devices are not working well or improving their hearing. A simple screening will show whether they have high frequency hearing loss and may be a candidate for a hybrid implant device," said Lewis.
About Saint Luke's Midwest Ear Institute
Saint Luke's Midwest Ear Institute is located at 4200 Pennsylvania Ave., on the Saint Luke's Hospital campus near the Country Club Plaza. Besides cochlear implants, the Midwest Ear Institute offers services such as a hearing aid program, vestibular (balance) testing, diagnosis and treatment of auditory processing disorders, hearing protection consultation, auditory verbal therapy and tinnitus evaluation and treatment.
This year the Midwest Ear Institute celebrates its 34th year. Founded by neurotologist Charles Luetje, M.D., the Ear Institute's mission is to enhance quality of life by restoring or improving hearing in children and adults. From pioneering early cochlear implant surgery (Dr. Luetje performed the 60th in the nation), Midwest Ear Institute has grown into a nationally recognized center of excellence. Along with Bradley Thedinger, M.D.,Joseph Ursick, M.D., and Robert Cullen, M.D., the Midwest Ear Institute participates in clinical trials to determine the efficacy of cochlear implant devices, offering patients the latest in surgical advances and devices. Experienced, certified audiologists meet the follow-up needs of patients after implantation.
# # #