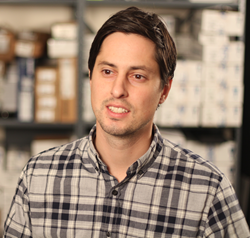 "A trusted technology consultant should be both a thought leader and an expert on the practical details that make systems work."
Pittsburgh, PA (PRWEB) September 24, 2014
Distinguished audiovisual professional, David Vargo CTS-D, Principal Consultant of BrightTree Studios, recently shared his modern views on technology consulting for the year 2014 and beyond.
"I'm rebelling against the current message. The modern method for audiovisual consulting and design is not independence, its agnosticism."
Based on demands from prominent corporations and institutes of higher education across the country, David and his team branded a new company wing, BrightTree Studios, specializing in agnostic technology consulting and design. In his latest blog titled "The Modern Method of Audiovisual Consulting," David takes a bold stance in separating his design views from that of his colleagues.
"As a professional in the field, your instinct is to design systems with products that you are comfortable with and know will not only function as the client would like, but will stand up against the test of time," says David. "Working in an organization that contains a design wing situated within an integration environment, allows our employees to get hands on experience with a wider variety of products live and in the field. We then can take that knowledge and apply it to our client designs."
David's blog centers in on the belief that the best method of developing the sophistication and practicality of designs is hands-on problem-solving, coupled with independent research and industry training.
ABOUT BRIGHTTREE STUDIOS
BrightTree Studios is a full service, audiovisual consulting and design firm that partners with architects, owners, and end users to create state-of-the-art environments used to inspire individuals to learn, create, work, and collaborate.
ABOUT DAVID VARGO
With over a decade of experience in the audiovisual industry, David Vargo comes from a line of prestigious companies. He has experience designing and installing systems on over 200 projects for clients across the spectrum, including corporate, higher education, healthcare, telemedicine, and broadcast.