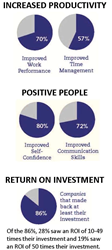 Healdsburg, CA (PRWEB) September 11, 2014
"Rising demand is not only coming from corporations, but from individuals who want a higher level of productivity in the workplace and greater sense of satisfaction from their work. A recent study conducted by the International Coach Federation of 20 countries around the world found that 86% of companies who invested in coaching made back their investment" according to Barbara Fagan, co-founder of Source Point Training (http://www.SourcePointTraining.com)
Many international training companies are now turning to coach training organizations in the United States to add value to their existing professional training programs. InVision Asia, with locations in Hong Kong, Guangzhou and Taipei, offers trainings to empower people to take on new levels of commitment and accountability to have people be more successful. Through a partnership with Source Point Training formed in 2013, InVision now offers Source Point Training's Fundamentals and Mastery of Performance Coaching training to their leadership team and to clients. Their first class of 38 coaches in Hong Kong was certified by completing Fundamentals of Performance Coaching and Mastery of Performance Coaching on August 13th .
Source Point Training also offers Leadership Coaching to organizations that have set a strategic goal to achieve a coaching culture in their work environment. Leading organizations like Google, Twitter, Intel and NASA are making this investment and site increased productivity, profitability, quality and employee retention as just a few of the measureable benefits of coaching in the workplace.
Fagan shares that "Coaching is a growing profession with great credibility largely due to the work that the International Coach Federation (ICF) has done to create the awareness and value for professional coaches, and setting the bar high in the areas of ethics, standards and education."
In the past, performance coaching was seen as a process to improve work performance. That has changed with the younger generation in the workforce. The ICF Global Consumer Study ICF study shows that 35% of those aged 25 – 34 have engaged in coaching to create greater self awareness, expand career opportunities, and improve time management and life balance. "These are attributes valued by the millennium workforce of today" says Fagan. "When I first started coaching, it was the Baby Boomers trying to manage the Gen X. Due to the increased awareness on the value of coaching, it is now more important than ever to obtain the training from an organization recognized by ICF who provides the coaching skills and tools required to effectively coach."
Barbara Fagan has trained and certified coaches for the last 12 years worldwide. "In the last 5 years, I have seen more organizations begin to train internal coaches as resources for employees. At Source Point Training, we teach coaches the ground of being performance coaches which is ontological. This means coaching to particular outcomes, but also seeing all the interdependences in our client's lives," says Fagan. "In order to be effective today, we cannot live our life in a set of compartments" continues Fagan. "The way that our world is changing, we see more and more the cross over between work, play, family, friends and business associates."
Fundamental of Performance Coaching and Mastery of Performance Coaching Certification begins November 14th – 16th. This certification program is a 9-month process with 5 3-day modules attended by the coaching students approximately 10 weeks apart. It is designed to teach the ICF Coaching Core Competencies but also provides CCEs for personal development and business planning to establish a successful coaching practice. "Becoming a successful coach is something that many new coaches struggle with. We equip each participant with knowledge, skills and abilities to become a professional performance coach." Fagan is proud that the ICF has approved their curriculum for 141 CCE units with 87.75 in the area of Core Competencies. This provides coaches with the training requirements to apply for the Associate Certified Coach (ACC) credential with ICF.
Source Point Training now offers Open Enrollment for their U.S. coach training held annually in Phoenix, AZ.
Program: Fundamentals of Performance Coaching
Training Dates: Nov. 14-16, 2014; Feb. 6-8, 2015; and April 17-19, 2015
Program: Mastery of Performance Coaching
Training Dates: June 5-7 and Aug. 21-23, 2015
Location: Phoenix, AZ
See this video testimonial by recent graduates of Source Point Training's Coaching Fundamentals and Mastery Certification programs.
For more information, visit http://www.sourcepointtraining.com/coach-training/fundamentals-of-performance-coaching/, email admin(at)sourcepointtraining(dot)com or call 800-217-5660 x101.