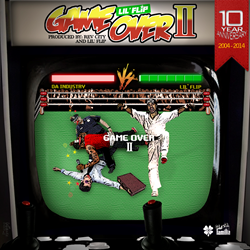 This album is said to be Flip's best album to date
Houston, TX (PRWEB) September 11, 2014
After selling 23 million albums and 12 million ringtones, Lil Flip decided it was time to go independent. Flip has released 85 mixtapes over the last 6 years. He has also wrote a book titled "Don't Let the Music Industry Fool You" with a music soundtrack both available online and in stores. A cartoon based on his book will be available soon.
Lil Flip released his single "Game Over" in 2004.which makes this the 10th year anniversary. Flip recently signed a new artist from Detroit named "Rev City" that collaborated on the new "EL JEFE" album. This album is said to be Flip's best album to date. Flip realized that two of Rev City's greatest assets is his lyrical presence and his ability to adapt to any style. He realized that Rev City had worldwide undeniable talent after his second studio session of the single "Game Over II.
Flip represents the last of a dying breed of musicians who sold millions of albums independently. He is back with a vengeance and major with backing. He is also destined to keep "DJ Screw's" legacy alive. The Freestyle King has performed over 1500 shows within the last 6 years. Flip believes that small markets are just as important as large ones.
Flip recently released a series of mixtapes with Atlanta's DJ Sam Hoody called "#Timeless" which showcases his versatility.
Checkout Lil Flip's Independent label Clover G
RIP DJ SCREW! Download Game Over II
Check Out Flip's Latest Videos on Youtube:
"Lotsa" Mr. Dubb &Fat Pimp & Lil Flip
Booking
LILFLIPBOOKINGS(at)GMAIL(dot)COM
@LILFLIP713 twitter/Instagram