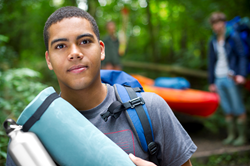 Hersey, MI (PRWEB) September 10, 2014
The intervention services available with these funds will provide opportunities for families and teenagers within these counties to secure help at Eagle Village. Life-changing services available include:

Family Challenge Weekends where parents and youth attend together, learning new skills and insight into their relationships. Families identify issues, learn to communicate, set limits and goals and develop conflict resolution strategies.
Youth Challenge Weekends confront behavior patterns that create disturbances in the family or community. Teens attend with peers and discover a sense of purpose and self-esteem. They are empowered to take on new behaviors that are positive for self, family and community and learn to be accountable and responsible for their own actions.
Summer Camps for at-risk youth will challenge, excite and encourage pre-teens and teens that push back against authority, struggle behaviorally or are challenged to control their anger.
Changing Lanes Intervention Program- Designed as a "wake-up call" for troubled teenagers, Changing Lanes provides the opportunity and tools to learn new ways to make healthier choices by examining their old behaviors. They learn new communication skills, anger management and life-skills training.
Linda Kimbel from CACF said, "The Cadillac Area Community Foundation is delighted to help fund some of the amazing services provided by Eagle Village for youth. The leadership at Eagle Village cares deeply about the young people they work with and their results are evident in the success of each young person."
Eagle Village is a non-profit family treatment center providing Intervention Services and Camps, Residential Treatment, Foster Care and Adoption services for all counties in Michigan. If you know of a family in crisis that may benefit from these programs contact Eagle Village at 231-832-2234 http://www.eaglevillage.org, Facebook or Twitter.