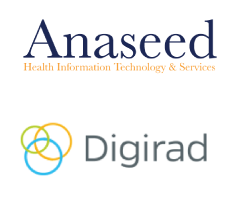 "We needed a program, portal, and partner to ensure compliance for both ourselves and our customers. That is where Anaseed and Live Compliance came in, with a comprehensive solution that meets all our needs."
Tampa, FL (PRWEB) September 12, 2014
Anaseed, a high growth company specializing in HIPAA Omnibus regulation program compliance and training, announced that Digirad Corporation ("Digirad"; Nasdaq: DRAD) has selected and is using Anaseed's Live Compliance Platform to manage complex HIPAA regulations for Digirad's nationwide network of customers. Live Compliance serves as the regulation backbone of Digirad, providing an integrated system that will protect Personal Health Information (PHI) in the new and evolving medical compliance environment.
"The importance of HIPAA Compliance cannot be overstated in today's healthcare environment," commented Matt Molchan, President and CEO of Digirad. "We needed a program, portal, and partner to ensure compliance for both ourselves and our customers. That is where Anaseed and Live Compliance came in, with a comprehensive solution that meets all our needs."
Today, any company serving the medical community – from providers to equipment suppliers, must comply with HIPAA Omnibus. Jim Johnson, Anaseed's President said, "Digirad has made a serious commitment to HIPAA compliance, and we see this as a trend. Companies need both the platform and the subject knowledge because HIPAA Omnibus is especially complex. With our secure web portal, Live Compliance can now be a place to rally around for compliance, training, and deficiency tracking. Sometimes the most important information a company needs in compliance is where they are falling short, because the penalty is so high."
Molchan concluded, "Live Compliance's approach helped us complete numerous assessments and updates to our HIPAA policies and procedures, saving a considerable amount of time and, most of all, decreasing risk. Moreover, their workforce training ensures our employees will continue to safeguard PHI with the highest confidence for our customers. It is something we can build on as customer and patient data grows."
About Live Compliance
Live Compliance provides organizations of all sizes a platform and a portal for HIPAA regulation compliance. With the livecompliance.com secure web portal, each employee and stakeholders to patient data can become and maintain compliance. Based in Tampa Florida, Live Compliance is managed by Anaseed which serves thousands of medical workforce members nationwide. The Live Compliance platform provides tools, notifications, and understandable guidance process management – all with the goal of the protection of medical data and the reduction of business risk for management of this data. In addition, Anaseed provides clients with a program to create all aspects of compliance requirements, a portal to manage and maintain their compliance program and a partnership providing consulting services needed to ensure your organizations ongoing needs are addressed. For more information, please visit http://www.livecompliance.com Live Compliance® and Anaseed™ are registered trademarks of Anaseed, LLC.
About Digirad
Digirad delivers convenient, effective, and efficient diagnostic solutions on an as needed, when needed, and where needed basis. Digirad is one of the largest national providers of in-office nuclear cardiology and ultrasound imaging services, and also provides cardiac event monitoring services. These services are provided to physician practices, hospitals and imaging centers through its Diagnostic Services business. Digirad also sells medical diagnostic imaging systems, including solid-state gamma cameras, for nuclear cardiology and general nuclear medicine applications, as well as provides service on the products sold through its Diagnostic Imaging business. For more information, please visit http://www.digirad.com. Digirad® and Cardius® are registered trademarks of Digirad Corporation.
Contact
marketing(at)anaseed(dot)com
Anaseed, 8875 Hidden River Parkway Ste. 300, Tampa FL, 33637
Phone: (813) 704-0448