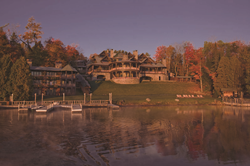 Lake Placid, NY (PRWEB) September 10, 2014
The Lake Placid Lodge in Lake Placid, New York, is holding its' annual Gastro Getaway Weekend from October 23-25, 2014. This exciting, weekend long event is being held this year in conjunction with the 60th Anniversary of Relais & Chateaux, of which the Lodge is a member. For that reason the weekend will feature the combined talents and expertise of Host Executive Chef Truman Jones, as well as visiting Chef Rafael Casin, Relais & Chateaux Inkaterra Resorts, Peru, South America. Rounding out the gourmet experience for the weekend will be wine host Vineyard Clos Du Val from Napa Valley.
For the 5th year this annual event will be sponsored by Lexus. As a Lexus Hotel Partner, the Lake Placid Lodge will be host to numerous luxury vehicles for the event, many of which will be dedicated for exclusive guest test drives.
During the stay guests will participate in many different culinary and spirits-oriented events including wine tastings, culinary demos and pairings, cocktail muddling and mixing classes with Lori (Lake Placid Lodge's famous bartender), one-on-ones with the Chefs, craft beer tastings, a gourmet olive oil tasting and much more. The weekend will culminate with a spectacular, collaborative eight-course tasting menu paired with wines from Clos Du Val. For the complete itinerary go to http://www.lakeplacidlodge.com/es3442/cat472/gastro-getaway-package/lang1
Lake Placid Lodge is now offering an extra night FREE when booking three nights for the Gastro Getaway. The Gastro Getaway commences on Thursday, October 23rd. Guests booking Thursday through Saturday night can stay Sunday night for free. Rates start at $1,099 per night for two people and include all Gastro Getaway events and activities. Rates always include a gourmet breakfast. Rates do not include service, tax or resort charges.
For more information about Gastro Getaway go to http://www.lakeplacidlodge.com and click on Special Offers.
# # #
About Lake Placid Lodge
Lake Placid is the jewel of the Adirondacks, clear, cold and strewn with leafy islands; Lake Placid Lodge stands upon its emerald shore. A majestic hotel, built by hand in the Arts and Crafts tradition, is perfectly at home in its lakeside setting. There are thirty guest rooms at Lake Placid Lodge: five in the Main Lodge, seventeen cabins on the shore of the lake, six suites in the Lakeside Building, and two cottages, Pine and Birch, overlooking the lake, just steps from the Main Lodge. Each is spacious, luxurious and imaginative; rich and romantic with soft fabrics, polished wood, stone fireplaces, stacks of logs, a hand-built, cloud-soft bed and wilderness through its windows. Each is private, supremely comfortable and entirely individual; no two are the same. Lake Placid Lodge is a proud member of Relais & Chateaux, a collection of the finest hotels from 55 countries around the globe. For more information on Lake Placid Lodge go to http://www.lakeplacidlodge.com