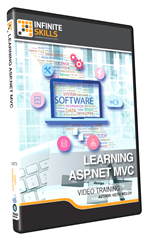 Learn ASP.Net MVC at your own speed
(PRWEB) September 11, 2014
Software training firm Infinite Skills Inc. this week released its "Learning ASP.Net MVC Tutorial," a course designed to teach the basics of using the streamlined model, view, controller (MVC) framework for creating web applications.
ASP.Net MVC facilitates development by dividing the application into three basic layers: the model, or business layer; the view, or display layer; and the controller, or input layer, providing a lightweight, testable, presentation framework that is integrated with ASP.Net features.
Infinite Skills' "Learning ASP.Net MVC Tutorial" introduces the essentials of using the MVC framework for developers already familiar with ASP.Net.
Learning ASP.Net MVC Video Tutorial - Streaming
Course author Keith Welch is the owner of Mooseworks Software, a company specializing in developer tools and custom app development. He has spent more than 30 years working in the software industry and has 10 years experience working in .Net technologies and mobile development. His many proficiencies include MVC, iOS, Android, Windows Mobile, ASP.Net, and more. Welch currently specializes in developing entire system solutions, integrating web sites and applications with mobile apps.
Welch begins with a basic introduction to MVC, explaining the overall design pattern, basic terminology, and installation, before walking students through the basics with a beginning MVC project. He then introduces MVC technologies such as LINQ, Razor, and more.
Critical functionality is covered as the course moves into the development process for an e-commerce application, covering many features and skills for working with MVC.
Welch teaches essentials such as working with an SQL server database, creating a data model layer, and a home page and switchboard. He then demonstrates how to build interactive features by creating an item list, including filtering and grouping functionality, and setting up the app for integration with a shopping cart.
Other chapters cover mobile browser support, creating a user interface and data layer aspect, working with responsive CSS, and stylizing with Bootstrap.
"This course is designed as an introduction to MVC," Welch explains. "It will cover the basic design pattern, terminology, and tools that you need to use the framework."
"The e-commerce app will expose a lot of MVC features, and we'll get involved in a lot of new language technology features as well."
Free demo videos and a full list of course contents can be found on the Learning ASP.Net MVC Tutorial training page of the Infinite Skills website:
http://www.infiniteskills.com/training/learning-asp-net-mvc.html
Infinite Skills offers its Learning ASP.Net MVC Tutorial either as a DVD or a direct download from the company website at a retail price of $49.95, or as part of its subscription streaming service at a rate of $25 per month. All Infinite Skills titles and formats are compatible with both Mac and Windows operating systems, and shipping is available around the globe. Infinite Skills tutorials are supported by project files which correspond to examples in the videos.
About Infinite Skills Inc.
A leader in the field of software training, Infinite Skills strives to offer the highest quality training available at an affordable cost. Infinite Skills tutorials are task-oriented instructional videos, teaching complex skills by providing hands-on examples, guiding users as they carry out critical objectives. Infinite Skills offers a comprehensive range of software titles available as DVDs, digital downloads, and iPad editions, keeping with company aim of delivering professional training to customers anywhere they want to learn.