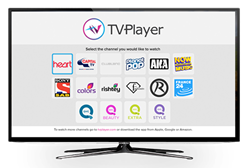 London (PRWEB UK) 11 September 2014
Popular music stations Heart and Capital TV, together with Clubland TV, Planet Pop, Channel AKA and NOW Music, home to music from the UK's leading labels and No1 artists, form the music hub on TVPlayer.
The DESI pack has been an instant success since it launched on TVPlayer, offering a mix of Bollywood movies, Indian comedy shows together with Hindi Music and World News, making it the first of its kind on Freeview. India's most-loved comedy and entertainment shows are brought to Freeview by SAB TV. In addition, Colors & Rishtey, two of the top three most viewed south-Asian channels in the UK, offer compelling reality shows, top of the line dramas, along with the latest Bollywood blockbusters.
FashionTV, the largest global fashion channel, broadcasting 24-hour news coverage of fashion to over 500+ million households, will also be covering the hottest news from London Fashion Week, starting this weekend.
Revelation TV, the UK's leading Christian Television Channel, producing daily live and interactive shows and award winning documentaries such as The Promise and The Waters Cleaved also joins Freeview for the first time.
Finally, global news channel France 24 (English version) completes the launch channel line-up on TVPlayer, with many more channels due to follow.
The full portfolio of QVC Channels, QVC Style, QVC Extra, QVC and QVC Beauty will soon join TVPlayer, presenting their customers with the opportunity to shop via the app, website and Freeview.
TVPlayer is very simple and easy to use. To start watching all of these channels for free, viewers will simply need to connect their compatible Freeview HD TV to the Internet. Connected TV/Internet TV has been growing rapidly in the UK, presenting the end consumer with more opportunities than ever to view live content. Freeview report that they have 3.7 million customers using Freeview HD TVs and boxes and the figure is forecast to grow significantly over the next few years. According to Digital TV Research, the number of households watching online TV and video will reach 706.53 million in 2020, which will account for 47.6 per cent of the world's TV households.
As TVPlayer is BARB measured on Freeview, all viewing will contribute to the overall channel ratings, increasing each channel's reach. TVPlayer has also been working closely with BARB to implement Project Dovetail, which will allow viewing behaviour to be tracked across multiple devices, which is a ground-breaking development for the broadcast industry. In addition, TVPlayer offers multi-platform advertising opportunities for brands and their media agencies that can deliver these multi-platform metrics as part of their campaigns.
Adam Smith, CEO of TVPlayer, says, "We are thrilled to be working with so many of our broadcast partners to launch their channels on Freeview 241. TVPlayer offers a vehicle for popular free-to-air channels to air not only via mobile, tablets and desktop, but also now to Freeview HD homes. Our ambition is to roll out TVPlayer across more platforms and devices."
TVPlayer can be watched for free at tvplayer.com, by downloading the TVPlayer app from the App Store, Google Play and the Amazon Appstore and now via channel 241 on Freeview. TVPlayer's Freeview service is powered by Simplestream and Synapse.
-Ends-
Notes to Editors
About TVPlayer:
TVPlayer is an OTT platform launched in the UK by Simplestream, which streams live TV across multiple devices from some of the UK's favourite free-to-air broadcasters.
About Simplestream:
Simplestream, founded in 2010, has grown to become a leading provider of multi-platform live streaming and catch-up TV services to broadcast and media companies. Its Media Manager, Media Hub and Media Player technologies simplify over the top (OTT) video operations and work-flows. Offering a cost-effective SaaS pricing model, Simplestream's services are optimised for the sports, music, news, entertainment and retail sectors. Please go to http://www.simplestream.com for further information.
###
Media Enquiries:
Marie Ellis, Head of Marketing & PR, TVPlayer
marie.ellis@tvplayer.com | T: +44 (0)20 7292 4928 / +44 (0)778 099 5080