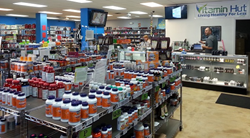 The reason for the name change is to ensure customers and visitors know exactly what to expect when they walk into the door
Indialantic, FL (PRWEB) September 11, 2014
Brevard's largest sports nutrition store has changed its name to Vitamin Hut, launched a new website, and remodeled its store.
The reason for the name change is simple, according to Vitamin Hut Managing Director Kimba Vasquez: to ensure customers and visitors know exactly what to expect when they walk into the door at Vitamin Hut, or visit VitaminHut.com.
"While longtime customers never gave the old name, Physical Addictions, a second thought, new and prospective customers were confused by it," Vasquez said. "The old name conjured up everything except vitamins, supplements, minerals, super-foods, proteins, fat burners or sports nutrition. We want people to know exactly what they're getting when they walk into our store or go to our website. And we want everyone to remember our name, too."
"Our goal is to provide customers with the best possible shopping experience, one they can share with family and friends," Vasquez continued. "And that's why we've changed the name of our business, completely remodeled our store, and upgraded our website, VitaminHut.com, which is now easier to use, but still has the great deals we've become known for. All of these changes are about achieving our vision as Brevard County's premier sports nutrition destination."
About Vitamin Hut: For nearly 25 years, Vitamin Hut (formerly Physical Addictions) has been the only store in Brevard County that specializes in sports nutrition, including vitamins, muscle builders, and hard to find products, including fat burners and more. The store has been under new ownership since May of 2013, and remains dedicated to providing an unmatched sports nutrition shopping experience. The friendly knowledgeable staff is always ready to help with any of your health and fitness goals.