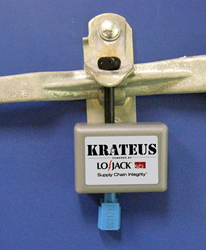 "While Krateus and our services represent a natural evolution for both partners, it's a tremendous feeling to write a new chapter in supply chain security with the latest technologies available." – Ralph Mallozzi, VP, Global Sales &
Atlanta, GA (PRWEB) September 11, 2014
TydenBrooks, the world's oldest and most innovative source of supply chain security solutions, and LoJack SCI, the global leader in supply chain monitoring & loss prevention services, are announcing the launch of TydenBrooks' Krateus, powered by LoJack SCI – the most sophisticated, customizable, and reliable electronic tracking system for cargo-in-transit available anywhere in the world. TydenBrooks' Krateus, powered by LoJack SCI, is a reusable, electronic monitoring device that detects and prevents tampering, monitors precise location & conditions, and alerts cargo and freight owners when deviations occur.
TydenBrooks and LoJack SCI will present the Krateus seal and security monitoring solution at ASIS 2014 in booth #3865 at the Georgia World Congress Center in downtown Atlanta, September 29 through October 1, 2014.
TydenBrooks' Krateus powered by LoJack SCI communicates directly with shipment owners via GSM cell and assisted GPS from the most desolate or developed areas in the world. When combined with high-security-compliant security bolts, TydenBrooks' Krateus powered by LoJack SCI protects and tracks cargo to the trailer, container, and shipment level. When coupled with RF-enabled devices and other customizable, clandestine settings and placements, TydenBrooks' Krateus powered by LoJack SCI can protect and monitor cargo location & conditions at the item or carton level.
In-transit cargo protected by TydenBrooks' Krateus is tracked globally 24/7/365 by the supply chain security experts at LoJack Supply Chain Integrity at their central command and control center. For shipments in-transit in the US and some other regions, law enforcement is notified and deployed immediately to intervene and retrieve cargo that deviates from its prescribed route or condition. This solution also provides a level of business intelligence and insight into extended supply chains heretofore unavailable with previous applications.
"TydenBrooks has been in the business of supply chain and cargo security innovation since 1873. It's exciting to be bringing Krateus to market – especially when our partner is of the caliber and reputation of LoJack SCI. While Krateus and our services represent a natural evolution for both partners, it's a tremendous feeling to write a new chapter in supply chain security with the latest technologies available." – Ralph Mallozzi, VP, Global Sales & Marketing, TydenBrooks
To view a special video about TydenBrooks' Krateus powered by LoJack SCI and learn more about this revolutionary solution, visit TydenBrooks' Krateus web page
TydenBrooks' is the world's oldest and largest provider of innovative freight and transportation security solutions, including indicative seals, cable seals, bolts, tapes, labels, and locking devices. Founded in 1873, TydenBrooks is the global leader in innovation & reliability for all customized, regulatory compliant solutions to track, trace, and authenticate shipments requiring the highest degree of security. For more information, visit http://www.tydenbrooks.com.
LoJack Supply Chain Integrity provides integrated solutions for supply chain protection that includes shared supply chain intelligence and analytics, covert cargo tracking, monitoring, and recovery services. The LoJack SCI solutions feature proactive alert based security and increased visibility across all modes of transportation with clear chain of custody management utilizing active sensing of the cargo's environment while in-transit. For more information, visit http://www.lojacksci.com for more information.
# # #
If you would like more information about this topic, please contact Nadia Huda at 1.845.589.5526 or email at Nadia(dot)huda(at)tydenbrooks(dot)com.