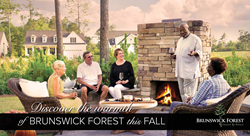 Convenient and Fun Ways to learn more about the Community this Fall
Wilmington, North Carolina (PRWEB) September 11, 2014
A light jacket and a pumpkin spice latte is a signature combination to kick off the fall season on the coast of North Carolina. For folks who are just beginning their search, the community of Brunswick Forest has scheduled two intriguing fall Coastal Discovery Weekends to introduce their well-designed amenities to families interested in relocating to eastern North Carolina. From October 10th–12th, Brunswick Forest will be showing off The Woodlands at Meadow Park, their most recent neighborhood development.
October 10-12, 2014 Event Information
Friday Evening: Join Brunswick Forest for a Welcome Reception at a featured home in The Woodlands at Meadow Park.
Saturday Evening: Gather around the gorgeous fireplace anchored in The Woodlands at Meadow Park. Enjoy fireside fare, cocktails and the company of new friends and potential neighbors.
VIP Tour: Take a personalized tour of spectacular real estate opportunities, including The Woodlands at Meadow Park, and the outstanding amenities of Brunswick Forest.
Also: Play or tour 18 holes of golf, take a boat cruise or simply soak in the Brunswick Forest lifestyle.
The Woodlands at Meadow Park is the newest neighborhood at Brunswick Forest and boasts modern single family homes with craftsman and neo-traditional elements at a great value. Situated directly across from The Cottages at Meadow Park, right by the Brunswick Forest Loop around the picturesque nature area and just a two-minute walk to the Fitness and Wellness Center. Brunswick Forest neighborhoods are well located offering the utmost in comfort and convenience to its resident while preserving a serene lifestyle. Private tours of the model homes are available now by appointment through the Brunswick Forest Welcome Center or by calling 888-371-2434.
Take a peek at Brunswick Forest homes
November 7-9, 2014 Event Information
From November 7th-9th, visitors can tour the premier golf course home sites and model homes on Cape Fear National, an award winning Wilmington golf course. Just recently, Golfweek Magazine announced its list of Top Golf Courses State by State. It is no surprise to Real Estate Scorecard that Cape Fear National at Brunswick Forest was representing North Carolina in eleventh place – a coveted position for golf courses in the state. Cape Fear National was recognized as having a modern layout for golfers shying away from the traditional and classic course designs. Set amid magnificent oaks, maples, pines, magnolias, and dune grasses, the golf course is intriguing. Water features and sand dunes add to the beauty of the course. Hole #3 is the Signature Hole, one of the most difficult holes of the course. Locals know to the secret to success on this hole and that is to aim for the leaning tree.
Both events are guaranteed to add more spice to festivities for the fall. For those who are tied up with seasonal get-togethers and cannot visit during those dates, Brunswick Forest has more options. Brunswick Forest has a year-round Discovery Package that can be explored at any time, but this community will in the Northeast in September.
September Event Information for Whippany, New Jersey and McLean, Virginia

From September 13th-14th, Brunswick Forest will be at the Hanover Marriott in Whippany, NJ for the Ideal Living Resort and Retirement Expo
From September 20th-21st, folks from McLean, VA should stop by the Hilton McLean Tysons Corner for the same expo and see what life is like in this friendly Wilmington community
Show hours: Saturday 10 AM - 5 PM | Sunday 11 AM - 3 PM
It is not uncommon to see neighbors strolling through the streets of this walkable community in coastal North Carolina. Residents at Brunswick Forest are loving the way the leaves change color and the area's mild climate for each season. No matter what the weather is like, families of all ages living in this community are provided with fun-filled activities and social lifestyles.
Brunswick Forest is one of the fastest growing and most popular master-planned communities in Eastern North Carolina. Folks searching to relocate in the Southeast who take advantage of the Brunswick Forest Discovery Package can experience up close what it is like to live in this coastal community and try out all the top notch amenities. From the 100 mile hiking and biking trails to the 18,000 sq. ft. Brunswick Fitness and Wellness Center, over 1200 families already call this place home. Here's the full gamut of Brunswick Forest amenities:
18 Hole Championship Golf Course designed by NC native Tim Cate
Golf Clubhouse with restaurant and bar
18,000 Square Foot Fitness & Wellness Center
Indoor and Outdoor Swimming Pools
5 Hard Surface Tennis Courts and a Sport Court
Comprehensive Fitness Center with Lounge
Community Parks and Gardens
100+ Miles of Walking, Biking and Nature Trails
Canoe, Kayak and Small Boat Launch
Plan a fall adventure in the community of Brunswick Forest to see how thrilling this coastal North Carolina community can be. Private tours are available now by appointment through the Brunswick Forest Welcome Center or by calling 888-371-2434.
About Real Estate Scorecard:
Real Estate Scorecard writes unbiased real estate reviews providing in-depth information about popular gated communities in Florida, Georgia, North Carolina, South Carolina and Tennessee, all in an effort to help people discover where to retire in the Southeast.
Website: http://realestatescorecard.com