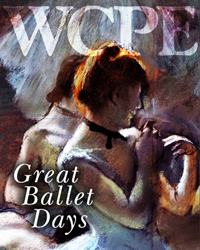 Curl up in a comfy chair or slip on your own dancing shoes
(PRWEB) September 11, 2014
WCPE's Music Director William Woltz announces a celebration of Great Ballet Music, September 18-21, 2014.
"Enjoy complete musical performances of some of your favorite ballets," offers Woltz, who is also host of Allegro. "We will hear Tchaikovsky's Swan Lake and Prokoviev's Cinderella, with lots of little ballet gems throughout each day's programming."
Here are highlights of the celebration:
Thursday Sept. 18, 10 a.m. -- Copland: Appalachian Spring; Saint Paul Chamber Orchestra, Hugh Wolff
Thursday Sept. 18, 1 p.m. -- Glazunov: Raymonda; Moscow Symphony Orchestra, Alexander Anissimov
Friday Sept. 19, 10:00 a.m. -- Mozart: Ballet from Idomeneo, King of Crete; Apollo's Fire, Jeanette Sorrell
Friday Sept. 19, 2 p.m. -- Delibes: Sylvia; Paris National Opera Orchestra, Jean-Baptiste Mari
Friday Sept. 19, 7 p.m. -- Prokofiev: Cinderella; London Symphony Orchestra, Andre Previn
Saturday Sept. 20, 9 a.m. -- Adam: Giselle; Orchestra of the Royal Opera House, Covent Garden, Richard Bonynge
Saturday Sept. 20, 1 p.m. -- Stravinsky: Firebird Suite; Israel Philharmonic Orchestra/Bernstein
Saturday Sept. 20, 3 p.m. -- Khachaturian: Gayne; National Philharmonic Orchestra, Loris Tjeknavorian
Sunday Sept. 21, 12 p.m. -- Tchaikovsky: Swan Lake; London Symphony Orchestra, Michael Tilson Thomas
Sunday Sept. 21, 3 p.m. -- Ravel: Daphnis et Chloe; Boston Symphony Orchestra/New England Conservatory Chorus/Charles Munch
Sunday Sept. 21, 9 p.m. -- Stravinsky: Petrushka; Royal Concertgebouw Orchestra, Mariss Jansons
On Saturday you may request your favorites at the Saturday Evening Request Program.
"Curl up in a comfy chair or slip on your own dancing shoes," concludes Woltz.
WCPE's 24/7 live broadcast of Great Classical Music, 24 Hours A Day can be accessed around the globe in several ways; on-line streaming in multiple formats, including IPv6, small dish home satellite reception, local cable television systems and traditional radio broadcasting. A complete list of the ways WCPE is available with instructions for cable and satellite reception can be found at: http://theclassicalstation.org/listen.shtml.
About WCPE:
With a 36 plus year history, WCPE 89.7 FM is a non-commercial, 100 percent listener-supported, independent station dedicated to excellence in Great Classical Music broadcasting. Community-minded business underwriters and foundations are among the 150,000 listeners in the North Carolina broadcast area. General Manager Deborah S. Proctor's leadership has enabled the WCPE community to include national and worldwide listeners. Big and small dish home satellite transmissions serve North America. Other radio stations and cable television systems use these services to rebroadcast Great Classical Music, 24 Hours A Day. WCPE is one of the first public broadcasters to stream on the Internet. WCPE is heard worldwide on the Internet in multiple formats, including the next generation IPv6. Because WCPE receives no tax-derived support, the station conducts two on-air fundraising campaigns and two major mail-out campaigns per year to raise needed operating funds. For more information, visit http://www.TheClassicalStation.org or call 919-556-5178.
Media Contact:
Curtis Brothers
919.556.5178
curtis@TheClassicalStation.org
###