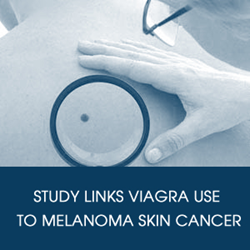 Contact the Oliver Law Group P.C. for your free Viagra melanoma skin cancer lawsuit case review by calling 1-800-939-7878 today or visit www.legalactionnow.com
New York NY (PRWEB) September 11, 2014
The Oliver Law Group P.C. reports that a recently published study has found that the use of Sildenafil citrate, sold as Viagra and Revatio increases the risk for developing melanoma skin cancer. Research published in the June 2014 issue of JAMA Internal Medicine showed men who said they used sildenafil, the generic name for Viagra, had an 84 percent risk for having invasive melanoma compared to men who did not use Viagra and other sildenafil drugs. According to researchers, the study's objective was to evaluate the link between sildenafil use and the melanoma risk among men in the United States. Researchers reviewed data from the Health Professional's Follow-up Study in which 25,848 men were questioned in 2000 about whether they use sildenafil for erectile dysfunction. The average age of the participants were about 65 years old. Researchers said they identified 142 melanoma cases, 580 squamous cell carcinoma cases and 3,030 cases of basal cell carcinoma during a follow-up from 2000 to 2010. Researchers observed that participants who took Sildenafil (Viagra) were at almost twice the risk for developing the dangerous skin cancer melanoma. Researchers noted that they supported a need for continual investigation into the association of Viagra with melonoma skin cancer, but did not observe an increase in risks associated with Viagra and other sildenafil drug use and the different types of skin cancers. [archinte.jamanetwork.com/article.aspx?articleid=1857095, June 2014]
In a commentary that accompanied the article, Dr. June K. Robinson, of the Department of Dermatology at Northwestern University Feinberg School of Medicine in Chicago, and editor of JAMA Dermatology, wrote that a prospective study with clearly defined criteria and known doses of sildenafil taken is needed before recommending changes in how men use sildenafil. According to Dr. Robinson, about 76,100 new melanomas will be diagnosed in 2014, and an estimated 9,710 men and women will die as a result of the diagnosis. However, patients in the very early stage of the disease have a 5-year survival rate of 99 percent when the cancer is treated with excision, according to Dr. Robinson. Those who are in Stage IIB, when the tumor has spread further into the lower part of the skin, have a 5-year survival rate of 57 percent. Dr. Robinson wrote that early detection of melanoma is needed and surgical excision of the cancer is critical. [archinte.jamanetwork.com/article.aspx?articleid=1857089, June 2014]
Viagra was approved in 1998 by the U.S. Food & Drug Administration as a prescription medication to treat erectile dysfunction in men. The drug became known as the "blue pill" because of its distinct blue color. Pfizer Inc., the maker of Viagra, and other manufacturers of drugs that treat erectile dysfunctio such as Cialis and Levitra, were told by the FDA in July 2005 to update there labels to include sudden vision loss as a side-effect of taking the drug. Two years later, the FDA required the drug manufacturers to display more prominently the potential risk for sudden hearing loss and what consumers should do if they experience hearing problems. Since hearing loss is associated with the aging process, the FDA suggested that some men who use Viagra may not think to talk to their doctor about it. Currently, the Viagra labeling includes other risks of side-effects, such as headache, upset stomach, back pain, muscle pain, nausea and dizziness. Priapism, an erection that will not go away, has also been reported by men who have taken the drug. It is recommended that men seek medical attention immediately if they experience this serious side-effect.
[fda.gov/NewsEvents/Newsroom/PressAnnouncements/2005/ucm108458.htm, July 8, 2005]
[fda.gov/NewsEvents/Newsroom/PressAnnouncements/2007/ucm109012.htm, October 18, 2007]
If You Believe You Have Developed Melanoma or Skin Cancer Due To Use of Viagra or other Sildenafil Medications Contact The Oliver Group P.C. To Learn More About Your Legal Options
The Oliver Law Group P.C. is a different kind of national law firm. One that focuses on the needs of the injured first. A compassionate law firm dedicated to fighting for the rights of victims and their families, and doing everything necessary to ensure those rights.
The experience of a large firm. The 1-on-1 dedication of a small firm. A reputation built on trust.
Experience. Dedication. Trust. Oliver Law Group P.C.
If you have developed melanoma skin cancer as a result of taking Sildenafil citrate, also known as Viagra, Revatio and under various other trade names,, turn to the law firm with the Experience, Dedication, and Trust you deserve. Contact the Oliver Law Group P.C. for your free Sildenafil melanoma skin cancer lawsuit case review by calling 1-800-939-7878 today or visit http://www.legalactionnow.com.