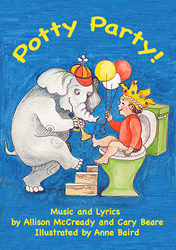 Vancouver, British Columbia, Canada (PRWEB) September 11, 2014
Potty Party, the first of Little Big Books' five-book collection, is wildly funny. Mom wants her toddler to poop in the potty. He prefers to do it in his pull-ups. But this time, something different happens! A band of happy animals playing musical instruments pours out of the bathroom shower. They're singing and playing the Potty Party song. Encouraged to think of going to the potty as huge fun, the toddler joins in. Soon, everyone is dancing! The new potty-pooper even remembers to flush.
Accompanied by kazoos, drums, and a red-hot keyboard, Musician/Composers Allison McCready and Cary Beare sing the Potty Party song with zest. Artist Anne Baird captures the fun and frolic with flair.
Potty Party is now available for sale on iBooks (Apple), Kindle (Amazon), Kobo (Chapters Indigo), and Nook (Barnes & Noble). The next four books, Moon Moon; Sunflower, Blankie and Teeny Green will soon be available. All but Nook consist of a flip-page book, and an embedded musical video. (Nook doesn't offer multimedia yet.) All five will be configured to download to the most popular computers and hand held devices, and are offered at an attractive price. They were designed to delight today's internet-savvy toddlers, and to launch them into a lifelong love of books and music.
Multimedia ebooks connect on many levels with young readers. A toddler sees, hears, and is able to interact with the stories. With a little help, he can return to the beginning of a story, follow the words that go with the voiceover reading, or listen to and sing along with the embedded musical video. A musical ebook keeps him happy and engaged for a few precious moments while mom cleans him up. It can keep a tiny girl busy while her grandma fixes lunch, or her dad grabs a coffee. It can soothe and send a fretful toddler off to sleep. It may console him or her over a painful loss.
Little Big ebooks are fun! But they also approach big issues that confront small people with short attention spans every day. (Notice Little Big's tag line: "Big Ideas for Little People.") Every Little Big ebook delivers a positive, encouraging message. The songs are singable, the illustrations, exuberant. Little Big really gets toddlers!
The Little Big creative team, Anne Baird, Cary Beare and Allison McCready, has a strong professional and personal achievement record. Anne is a retired teacher, mother, and grandmother of five. She's also the author/illustrator of eleven children's books, published by William Morrow and Simon & Schuster, five of which were for toddlers. Cary and Allison are a successful singer/songwriting duo that performs together as Joopiter Moon. Their extended family of nieces and nephews includes a potty-resistant toddler who was the inspiration for Potty Party. Together, the team creates unique gems for the toddler set.
To learn more, please visit the Little Big Books.net website.
Little Big Books.net is brand new, and welcomes inquiries about its ebooks as it rolls them out.