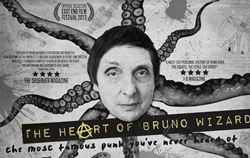 Los Angeles, CA (PRWEB) September 11, 2014
In The Equalizer, Denzel Washington plays McCall, a man who believes he has put his mysterious past behind him and dedicated himself to beginning a new, quiet life. But when McCall meets Teri (Chloe Grace Moretz), a young girl under the control of the ultra-violent Russian gangsters, he can't stand idly by - he has to help her. Armed with hidden skills that allow him to serve vengeance against anyone who would brutalize the helpless, McCall comes out of his self-imposed retirement and finds his desire for justice reawakened. If someone has a problem, if the odds are stacked against them, if they have no where else to turn, McCall will help. He is The Equalizer.
More information about the entire September 20th, 2014 NewFilmmakers LA Film Festival program including 'The Equalizer', the documentary feature film and the 14 short films can be found below.
The Heart of Bruno Wizard - Directed by Elisabeth Rasmussen
Bruno Wizard is a London punk musician who became an underground legend for his original performances and "mystery man" status in the mid 70s. This is the amazing true story of Bruno's roller coaster journey with blasts from the past and a future full of surprising twists and turns.
After screening at more than 30 festivals worldwide, including Le Marché du Film in Cannes 2014, "The Heart of Bruno Wizard" will be making its LA debut at the NFMLA Film Fest. The film is also slated for a wide US and Canadian release via Netflix on September 30th, 2014. The Heart of Bruno Wizard is Norwegian Elisabeth Rasmussen's directorial debut.
Hollygrove: The True Story of Monserrat - Directed by Carlos Hurtado
This short revolves around Hollygrove, which was founded in 1880 as the LA Orphans Home Society. Hollygrove provides help and hope to children in crisis including movie icon Marilyn Monroe when she was a 9 year-old with no family to take care of her. This film includes the true life story of Monserrat, a former child in crisis who shares how she learned to trust and love herself again after experiencing trauma and despair.
Carols Hurtado graduated from Loyola Marymount University Film school in which time he was nominated for a Student Academy Award. Over the course of his filmmaking career Carlos has earned 68 nominations and won 29 awards from film festivals all over the world.
9 to 5 Feet Under - Directed by Terry Ziegelman
In Bob's dead ­end job, the end is only the beginning. Inspired by actual events, 9 to 5 Feet Under, satirically explores the humanity or lack thereof in the corporate world, when a hapless co­worker unexpectedly dies in his cubicle.
The film stars Cedric Yarbrough (Reno 911!, BoJack Horseman), Riley Schmidt (ER, Cold Case, 7th Heaven, American Horror Story), and Tania Nolan (Underworld, Legend of the Seeker, Spartacus: Blood and Sand).
OstrichLand - Directed by David McCracken
A road trip comedy about two estranged brothers who drive across the country in a truck full of their dead dad's UFO memorabilia.
Film director and USC graduate David McCracken won Best Emerging Student Filmmaker at the Palm Springs International Short Fest for OstrichLand in 2013.
My Date With Adam - Directed by Dennis Schebetta
A wedding planner uses Internet dating to find the perfect man­­, only to discover that he's more than just perfect, he's a robot.
Besides NFMLA, My Date With Adam has been selected to screen in seven film festivals across the world including the Sci Fi London International festival and the 2014 Boston Science Fiction Film Festival. The film won Best Short Comedy at the High Desert International Film Festival. Director Dennis Schebetta was awarded the Ellen Weiss Kander Award and $20,000 to produce My Date With Adam. Brian Morvant, who is best known for performing as a professional stuntman in The Amazing Spider Man 2 and Boardwalk Empire, stars alongside theatre actress Tressa Glover.
Mia - Directed by Emi Bell
On the eve of her sixteenth birthday, the eclectic indie music aficionado and hopeless romantic Mia Peabody finds herself betrayed, heartbroken, and without tickets to her favorite band's upcoming sold out show.
Emi Bell's short film Mia has been nominated for Best Actor and Best Actress awards at the Golden Egg International Film Festival. Lead actress Gina Piersanti recently had a guest star appearance on Louie (FX).
Trust Me - Directed by Pete Pepe
After her parents tragically died in a car crash, Lily is adopted and raised by Jeff, the driver of the other car. Unable to bear the loss of his young wife who died in the crash, Jeff becomes a religious lunatic. As an escape Lily becomes a well known burlesque dancer. Everything changes for Lily when she meets Nate, a fiery young police officer with a troubled childhood. They fall into an affair that spins out of control, as everything they once believed in begins to change...Will they choose faith or fear?
Film maker Pete Pepe has previously worked as an effects animator on Disney's Tarzan, Hercules, and Fantasia/2000. Pete's most recent short film Trust Me stars Eric Roberts (The Dark Knight, The Expendables), Marc Anthony Samuels (General Hospital, NCIS, Parenthood, It's Always Sunny), and Paulina Michaels.
Sunday Dinner with the Morgans - Directed by Alex Forbes
Underneath their perfect veneer, the members of the Morgan family each engage in their own dark and twisted acts of moral depravity.
Dirty Laundry - Directed by Aaron Martinez
Afraid and alone, a young boy must navigate the turmoil of a broken home in order to defeat the terrifying creature that lurks in his basement.
Stay - Directed by Brandon Zuck
When Ash invites his ex­-boyfriend on a road trip to the Florida Keys, he doesn't mention that their weekend getaway is actually a dangerous drug deal.
The Guest - Directed by Evan Hamza
A young woman living with her boyfriend shelters her childhood best friend, an acquitted murder suspect, but as her boyfriend becomes increasingly suspicious of their house guest, the woman must choose between her old best friend or a future with her boyfriend.
Ticket to Ride - Directed by Matt Allen
Ticket to Ride explores what happens when a store clerk and his cat get stuck in between two best friends and 70 million dollars.
Toby and the Runaway Kite - Directed by Dana Stockton
With narration by Nick Barker-Pendree, this film follows the story of a young boy, Toby, who sneaks out of his house to fly his new kite on the rooftop. What will happen?
Bridge - Directed by Mchael Berge
Two strangers meet on a bridge while as both contemplate suicide.
Branching Out - Directed by Alex Perez
Max Cherrywood is a bundle of branches slowly approaching his 23rd birthday. He is trying desperately to get out of the 'Kindling Program', a work placement program which would result in him being used as fireplace kindling. However, if Max can find another means for his existence he will cease to be a candidate for his destined path.
Located in Downtown LA, AT&T Center is the Presenting Venue Sponsor of NFMLA. Founded in 2007, NFMLA has screened over 800+ films from over 51 countries. NFMLA boasts over 20,000 supporters locally. The organization provides a forum where filmmakers can be recognized with title supporters Sony Pictures Entertainment, SAG-AFTRA and LA Weekly.
For information or to purchase tickets to the NewFilmmakers LA September 20th screening, please visit http://www.newfilmmakersla.com.