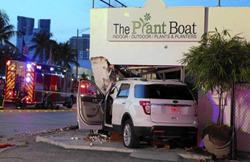 It's really upsetting to see what happened to our neighbor. He's a great guy, so hopefully we can get the community excited about raising some money for his business.--Zach Hoffman, CEO of Exults
Fort Lauderdale, FL (PRWEB) September 11, 2014
On September 8, at around 6:40pm, the driver of a Ford Explorer lost control and crashed into the front of the Plant Boat, a Fort Lauderdale business specializing in indoor and outdoor plants. The impact was severe. It dismantled the building's support and caused a severe stress fracture. Fire rescue said the building is likely unsalvageable.
No one was in the Plant Boat when the crash occurred. Business owner and South Florida native Matthew Lang was out on a delivery, but returned to find his businesses a mess. Lang recently moved his business from a boat by the Galleria Mall to its new location on US1 and Davie Boulevard hoping to increase traffic. He never thought something like this would happen. Already struggling to pay the bills and sinking all his savings into the business, Lang may be delayed in reopening his doors.
In an effort to assist Lang on getting back on his feet, Exults, a neighboring business and internet marketing agency, created a GoFundMe page for him and the Plant Boat. GoFundMe is a crowdfunding website that allows users to donate to the causes of others. Exults' aim is to raise $30,000, which would help Lang reopen his business. Zach Hoffman, CEO of Exults, hopes other local businesses and members of the community will donate to help get the Plant Boat up and running as soon as possible.
"It's really upsetting to see what happened to our neighbor," said Zach Hoffman, CEO of Exults. "He's a great guy, so hopefully we can get the community excited about raising some money for his business."
To learn more about the cause or to donate money to the Plant Boat, please visit http://www.gofundme.com/ThePlantBoat.