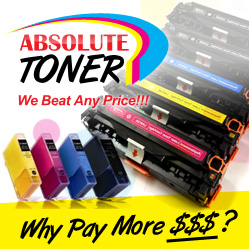 Toronto, Ontario (PRWEB) September 23, 2014
The announcement by Absolute Toner that the TN-620 Black Toner High Yield Cartridge is now available should put on smile on the face of anyone that has the following printers:
Brother HL-5340, Brother HL-5340D, Brother HL-5350, Brother HL-5350DN, Brother HL-5350DNLT, Brother HL-5370, Brother HL-5370DW, Brother HL-5370DWT, Brother HL-5380, Brother HL-5380DN, Brother MFC-8480, Brother MFC-8480DN, Brother MFC-8880, Brother MFC-8880DN, Brother MFC-8890, Brother MFC-8890DW
This toner cartage will provide high quality printing at a low cost per page when compared with the other cartridge options that are available.
Find out more about the cartridge here: http://www.absolutetoner.com/brother-toner-cartridges/1347-brother-tn620-toner-cartridges-compatible.html
What is a high yield cartridge?
One of the biggest problems that is experienced with printers is running out of ink. Laser printers are one way for users to increase the amount of pages they can print before caching the toner cartridges. A regular toner cartridge can print between 2,000 and 2,600 pages before it has to be changed.
It is a big improvement, but it is not good enough for everyone. That is where a high yield toner cartridge can be a benefit. They can double the amount of pages that can be printed. This compatible for Brother TN620 toner cartridge high yield from Absolute Toner offers a yield of 8,000 pages based on 5% coverage. That is 4 times as much as a regular cartridge.
A high yield cartridge such can print 4 times as many pages, but it does not cost 4 times as much. *The savings are combined with the fact that the toner cartridge is changed less often. That is why so many owners of laser printers look for the high yield cartridges.
What is a compatible cartridge?
A compatible toner cartridge is one that is not made by the manufacturer of the printer. It is still designed to work with the printers. One of the problems that can occur with compatible cartridges is they are designed to work with many printers from different manufacturers. They may not always work in the way they are supposed to and this can eliminate any savings that were realized by buying the compatible cartridge.
The Compatible for Brother TN-620 Black Toner Cartridge High Yield is designed to work with Brother printers. This means that it will work in the same way as the toner cartridges that are made by the manufacturer. They are made with high quality components to make sure the user is able to get all of the toner ink out of the cartridge in the way they are supposed to.
How to get the right cartridge
Anyone that wants to get a cartridge for their brother printer can find out the model number of the printer by checking the manual or by finding a decal on the printer. If the model number matches the ones listed above, this cartridge will work for it. If the individual has another Brother laser printer that is not listed, they can still find high yield compatible cartridges that will work. Once the right cartridge is found, it is just a matter of ordering it, installing it and enjoying the money that is saved.