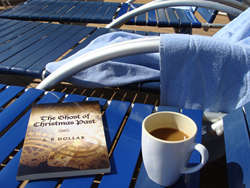 This surprising holiday story will warm readers all year long.
(PRWEB) September 11, 2014
A Christmas ornament found during an unplanned family reunion brings up questions from the far distant past in this holiday novel about relationships. Clues to the ornament's meaning provoke memories of "The Ghost of Christmas Past".
Jackie Longfellow, a grandmother skilled in crafts, is working at her church's Christmas bazaar when an actor in the local production of Dickens' A Christmas Carol discovers an unfinished ornament among her wares. Looking the piece over carefully, Jackie wonders why the intricate work of art was never completed. Her daughter Vicky, struggling in her family relationship, visits over the holidays with her girls, and all of them ponder the mystery of the incomplete holiday ornament. When they search through Jackie's craft supplies, they find old newspaper clippings, letters, and the mention of a sailor who died during World War I.
What could these things mean to the family's legacy, and will they ever learn what really happened so many years ago? This surprising holiday story will warm readers all year long.
"The Ghost of Christmas Past" (ISBN: 978-1-62212-260-8) is available in soft cover for $12.50 and can be ordered through the publisher's website:
http://sbpra.com/APDollar, and in digital editions at: http://epubco.com/shop/products/the-ghost-of-christmas-past-by-a-p-dollar/#
Also available through Amazon, Barnes and Noble and other online vendors.
WHOLESALERS: This book is distributed by Ingram Books and other wholesale distributors. Contact your representative with the ISBN for purchase. Wholesale purchase for retailers, universities, libraries, and other organizations is also available through the publisher; please email bookorder(at)sbpra.net
About the Author: A.P. Dollar grew up in Pennsauken, New Jersey, and has lived in Camden and Burlington County most of his life. He has visited or worked in 46 states.
Strategic Book Publishing and Rights Co, LLC