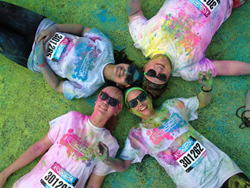 Wixom, Mich (PRWEB) September 11, 2014
In an effort to support educational charities in the Detroit area, RevSpring team members recently participated in the Color Run supporting Dollars for Scholars as well as the non-profit organization, Life Remodeled, which transformed a Detroit Public School.
The Life Remodeled Cody-Rouge 6-Day Project included revitalizing Cody High School, two nearby elementary schools and beautifying the surrounding neighborhoods in order to create safe and inspirational pathways for kids traveling to and from school.
In addition to RevSpring being a sponsor, Rich Turner, RevSpring's vice president of sales and marketing, volunteers with Life Remodeled. "Having been involved with Life Remodeled for over a year now, we've seen the rewards of creating a safe and inspirational environment for children and families in the community," said Turner. "Life Remodeled does an amazing job of bringing thousands of volunteers, donors and community members together to pull up a neighborhood that possesses both the need and hope for a better tomorrow. We are grateful for the opportunity to contribute. Giving your time and talents is rewarding beyond belief and it makes us want to do it again."
The Color Run race raised approximately $2000 for the Detroit Regional Chapter of Dollars for Scholars. The organization is dedicated to helping local students achieve the dream of higher education. The volunteer-run organization provides scholarships and academic support for students such as free ACT tutoring, reviewing student aid forms and organizing tours of local universities.
About RevSpring:
RevSpring's core service offerings include data hygiene and analytics, secure document creation and delivery, multi-channel communications, electronic billing and archival services and online payment tools, all while ensuring compliance with regulatory guidelines. RevSpring holds multiple security certifications including PCI DSS Level 1, HIPAA/HITECH and SSAE 16 SOC 2 and maintains rigorous legislative and regulatory compliance programs. It serves a large and diverse customer base across the healthcare, receivables management, financial services, insurance, home services and other end-markets.
About Life Remodeled:
Life Remodeled is a Detroit-based non-profit organization that exists to remodel lives—one neighborhood at a time. Their strategy includes remodeling a Detroit Public School each summer in order to create academic and athletic improvements. Additionally, they partner with local residents to remove blight in the surrounding area and create safe and inspirational pathways to the school. The end result is to sustain and build up a neighborhood that radiates hope to the rest of the city. For more information, visit http://liferemodeled.com/
About Detroit Regional Dollars for Scholars
Detroit Regional Dollars for Scholars® is a locally-run volunteer-driven scholarship organization dedicated to helping local students achieve the dream of higher education. It is one of nearly 1,100 grassroots chapters throughout the nation helping students imagine and realize their full potential.
Since its founding in 1995, the Detroit chapter has awarded over 450 scholarships to local students. Nationally, Scholarship America is the nation's largest provider of private scholarships. The 54-year-old organization has distributed over $2.9 billion to 1.9 million students throughout the nation. For more information visit:http://www.detroitregional.dollarsforscholars.org/.
Contact:
Heather Taylor
765.730.6632
htaylor(at)revspringinc(dot)com