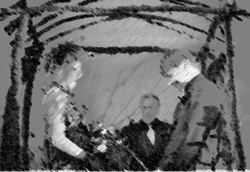 Everyone is cordially invited to attend the most unholy of matrimonies
Pine Mountain, GA (PRWEB) September 11, 2014
Add a little scare to your October as Halloween approaches. Bring your detective skills and appetite to Callaway Gardens on Saturday, Oct. 18, 2014, for a Murder Mystery Dinner Theatre with a twist. This year's dinner features a "Macabre Wedding." Those not faint of heart will put their own powers of aura perception to the test to determine who would commit such a dastardly deed.
Everyone is cordially invited to attend the most unholy of matrimonies -- a wedding like no other between a vampire groom and a true "witch" of a bride. This festive occasion will be shared with family and friends, goblins and gremlins, zombies and zombettes. Some guests will be in the present and in person, some only in spirit. But, this ghoulishly good time will be disrupted by a ghastly murder. With so many suspects in the room, how in the devil will the perpetrator be discovered? Guests will have to put aside their blood feuds and work together if the newlyweds are to make their midnight flight to their honeymoon destination … Transylvania.
For those who have been missing the fun, a Murder Mystery Dinner Theater includes a little detective work while you dine on delicious cuisine from the Callaway Gardens culinary team led by Executive Chef Michael Gonzalez. This evening's mystery will include opportunities for guests to interact with the cast. Guests selected just before the show will receive reading parts and will be cued to deliver their award-winning performances. Expect a few surprises and activities to add to the fun; plus, solving the mystery comes with token prizes for the winning team. And, guests are invited to dress up to match the evening's theme.
Can you identify the guilty parties? Reserve your "A Macabre Wedding" Fall Murder Mystery Dinner Theater overnight package today by calling 800-463-6990. Starting at $124.50* in the Mountain Creek Inn, packages include reception, dinner, Mystery Theater, lodging and admission to the famed Callaway Gardens and its many attractions for each day of stay and day of departure. Registration is limited, so make reservations soon. Dinner theatre-only reservations are $89** per person and based on availability.
Callaway Gardens® is in Pine Mountain, Ga., 60 minutes southwest of Atlanta and 30 minutes north of Columbus. For additional information, call 800-463-6990 or visit http://www.callawaygardens.com.
About Callaway Gardens
For more than 60 years, Callaway Gardens has provided "a place of relaxation, inspiration and a better understanding of the living world" for millions of visitors. Owned and operated by the non-profit Ida Cason Callaway Foundation, Callaway Gardens includes a garden, resort, preserve and residential community on 6,500 acres in Pine Mountain, Ga. Highlights include a butterfly conservatory, horticultural center, discovery center, chapel, inland beach, nature trails, a zip line/obstacle course and special events throughout the year.
In addition, Callaway Gardens offers nearly 80,000 square feet of meeting space, 689 guest rooms, restaurants, shops, golf, tennis, fishing and more.
Five unique, close-knit residential communities — with custom home sites, lakefront properties and cottages on the golf course — offer an ideal home away from home or full-time residence.
Callaway Gardens is home to a forest preserve which is under conservation easement. This conserved, sustainably-managed land is used for biological studies and environmental education programs.