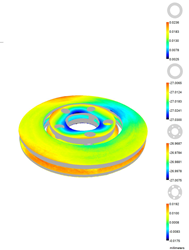 Ann Arbor, Michigan (PRWEB) September 11, 2014
Coherix, a pioneer in the development of advanced and powerful 3D visualization solutions, expands its presence in the brake industry in Japan with the sale of its ShaPix technology to quantify disc thickness variation, brake pad wear, and material durability. Utilizing the robust 3D dense data at the micron level that is quickly captured and reported, users are able to make quick, confident, and efficient decisions.
Multiple organizations from product development through production quality control gain from utilizing ShaPix technology. Part quality is improved, throughput increases, waste is minimized, warranty costs are reduced and customer satisfaction improves.
Coherix designs and delivers high-speed, high-definition, 3D metrology and inspection tools for product development and the management of manufacturing processes for the precision manufacturing and semiconductor industries. Headquartered in Ann Arbor, Michigan the company has technical centers in Europe and the Asia Pacific region. Coherix products are being utilized around the world at companies such as ASE, SPIL, Marvell, BorgWarner, Ford, Honda, Allison Transmission, Chrysler, General Motors, Micron, Infineon, John Deere, Volvo Technology Transfer and Aisin among others.