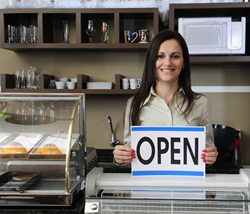 Self-employed individuals have always needed to take extra steps to prove their creditworthiness to lenders
Chicago, IL (PRWEB) September 10, 2014
The Federal Savings Bank notes one owns their own business there are some quirks to financing a home purchase with a low cost mortgage. The Federal Savings Bank offers the following nuance tip for applying for a loan as a self-employed borrower:
Make sure last year's tax return shows enough income to cover at least 70% of the monthly mortgage payment amount. Tax returns will be examined. Given that entrepreneurs don't have more traditional income documents like W-2 employees, they'll have to provide their lender with tax returns for the past two years. These documents will be used to the applicant's average income during that time. Depending on how the business performed, one year could paint a poor picture for the applicant's ability to repay a mortgage.
Make sure the income earned can cover at least 60% of monthly housing expenses (mortgage included). Expense deductions can present problems. Many self-employed individuals like to report their net income as gross income less expenses. This strategy reduces the amount of their taxable income. However, when it comes time to apply for a low rate mortgage, it appears that entrepreneurs don't have the earnings necessary to support a home loan.
Lenders are more favorable to veterans. There's a better chance of self-employed individuals getting approved for a mortgage if they can show they've been successful entrepreneurs for some time. Typically, lenders like to see that business owners have been pulling profits for at least two years.
Co-borrow with someone. Self-employed borrowers can improve their credit scores and reduce their consumer debt prior to applying for a home loan. However, these steps don't address the key income issue, which is why business owners have a better chance of being approved by applying with another borrower.
For more information about financing options for self-employed borrowers, contact The Federal Savings Bank, a veteran owned bank.