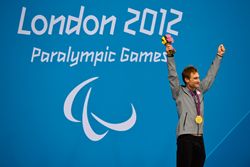 "I'm going to show people that I'm not going to let this beat me. I'm not going to let blindness build a brick wall around me. I am going to find a way forward," stated Snyder.
Minneapolis, MN (PRWEB) September 11, 2014
The Factory Agency, a Minneapolis based specialized sports and entertainment marketing agency, is excited to announce the signing of U.S. Paralympic Swimmer, Retired U.S. Navy Lt. Brad Snyder (Baltimore, MD), a two-time Gold Medalist and silver medalist at the London 2012 Paralympic Games. Snyder, a swimmer who won a gold medal on Sept. 7, 2012, the exact one-year anniversary of the improvised explosive device explosion in Afghanistan that cost him his vision, has returned to international competition last month in Pasadena, CA, winning six gold medals and one bronze medal at the 2014 Pan Pacific Para-Swimming Championships.
Snyder, who won gold in the S11 100m Freestyle and 400m Freestyle as well as silver in the 50m Freestyle at the London 2012 Games, is making his way back onto the International stage for the first time in nearly 2 years. While serving in Afghanistan in 2011, Navy officer Brad Snyder became permanently blinded after stepping on a bomb while trying to help other victims. The explosion took both his eyes, shattered his eardrum, and lacerated his face. He spent three weeks in intensive care and another five weeks in recovery. He recounts, "When you're kind of patching your life back together and figuring out how to adjust to blindness, you're not good at anything. Walking was a challenge. Cooking's a challenge. Dressing and color matching is a challenge. There are all these things that used to be no problem that are all of a sudden really challenging. I had a hard time getting the right amount of toothpaste on the toothbrush, because I can't see it."
Prior to this incident, Brad was known for his tenacity and fierce spirit, allowing obstacles to simply be spring boards for his next achievements. Anything he set his sight to, he accomplished. "I'm going to show people that I'm not going to let this beat me. I'm not going to let blindness build a brick wall around me. I am going to find a way forward," stated Snyder.
"We are extremely excited and honored for Brad to join the TFA family. With his strong performance in the pool two years ago in London and most recently at Pan Pacific Para-Swimming Championships, Brad has quickly become a top competitor for the U.S National Paralympic Swimming Team and will be looking to make a strong run at making the team for the 2016 Rio Paralympic Games," says Managing Partner Jeremy Snyder. "TFA will work with Brad in sharing his truly inspiring story through corporate partnerships, endorsements, marketing opportunities, speaking engagements, personal appearances and media opportunities leading up and through the Rio 2016 Paralympic Games."
About The Factory Agency
The Factory Agency is a specialized sports and entertainment marketing agency helping their clients develop a holistic brand that connects each phase of their lives to paint a cohesive, lasting image. By focusing on the five pillars of brand development – professional career, philanthropy, business interaction, resources/infrastructure, and public exposure – and tying each component together to reinforce an overarching message, TFA shapes clients' desired brand image and develops a plan to monetize the opportunities through the vast network of corporate, media, and personal relationships. Services and capabilities include: Talent Representation, Contract Negotiation, Marketing, Licensing & Endorsements, Speaking Engagements & Appearances, Event Production & Management, Philanthropic Consulting & Support, Media Production & Development, Corporate Consulting, Sponsorship Sales, and Hospitality & Concierge Services. For more information visit http://www.factory-agency.com.