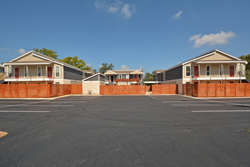 Austin, Texas (PRWEB) September 11, 2014
Over the last few years, Austin's economy has grown 15%, job growth has risen almost 11% and unemployment has dropped to a low of 4.7%. New industries and companies such as Facebook, Apple, Google and Visa have helped stimulate job growth in the area. With 110 net arrivals per day, a high quality of life and affordable living, Austin's future continues to look extremely promising.
With a seemingly endless capacity for growth and success, investors from across the world have focused in on Austin for its profitable commercial real estate opportunities, the best of which may be with multi-family properties. Here are six facts that make apartment purchases in Austin worthwhile:
1. Last year saw tremendous growth for the Austin apartment market, and industry insiders expect 2014 to follow suit. In 2013, vacancy rates fell below 5%, while rents rose 5.7%. Apartment rent in Austin averages $1,027 and annual demand remains higher than annual apartment completions.
2. Austin's job growth can at least partially be attributed to its traditional tech sector. Austin also continues to attract young people—the median age of Austinites is currently 31.1. Tech workers and young adults are among the most likely groups to choose to rent apartments. As a result, Austin is seeing a surge in new development.
3. With approximately 47,000 people having moved to Austin between 2012 and 2013, a job growth of roughly 25,000 positions, a very tight single-family market, and a low housing supply, Austin has developed a strong environment for multi-family units.
4. New apartments have been slow to complete due to construction delays, shortage in skilled labor, increasing costs and a slow down with the city. This has kept the demand for apartments at a high.
5. According to a second quarter 2014 survey by The CCIM Institute, the multifamily sector's investment conditions were the most favorable compared to all other commercial real estate investments.
6. The same CCIM survey showed that apartments recorded the lowest average capitalization (cap) rate (a rate of return on a real estate investment property based on the expected income that the property will generate) among commercial investments in the second quarter of 2014 a national average of 7.7 percent. Austin's cap rate for Class A properties runs significantly lower, however, between 5 and 5.5 percent.
If interested in multi-family properties, Devora Realty has a great buyer's opportunity: a completely renovated, one-of-a-kind property featuring "smart spaces for the urban dweller" in the heart of Austin, Texas near CBD. Featured property highlights include:
Building:

28 Units
11,760 square feet
2014 Goodman Mini-Split 18 SEER HVACs
Rennai Tankless Water Heaters
AT&T GigaPower (1 gigabyte fiber optic cable)
Location:

Within walking distance of South Lamar (SOLA), South Congress (SOCO) and SOF1 (South 1st) – Austin's hottest shopping, dining and entertainment districts
Close proximity to all major Austin colleges, including University of Texas, St. Edwards University and Austin Community College
Less than three miles to popular downtown area
Located in 78704, which is one of the most desirable zip codes in Austin
Within walking distance to Capital Metro bus route
Price is to be determined by the market. Visit http://devorarealty.com/property/urban3/ for more information.
Devora Realty is a full-service Austin real estate and advisory firm specializing in the purchase, sale, rental and marketing of select residential new developments, multi-family properties and premier resale properties. Devora Realty is a boutique firm delivering a brand of service based on integrity, informed by expertise and practiced in efficiency. For more information 512-961-9084, call or visit http://DevoraRealty.com.