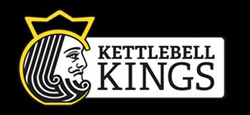 Austin, Texas (PRWEB) September 16, 2014
Online retailer Kettlebell Kings has announced that they will now be offering $0 shipping on all kettlebell purchases in their online store. The company wants to make it easy for customers to get started with this effective workout method that is quickly gaining popularity outside of the Crossfit movement. The online store carries a variety of kettlebell brands as well as offers customer education and free weekly workouts guides.
"We've seen for ourselves how effective kettlebells can be and we want other people to experience that, too," said Kettlebell Kings co-founder Jay Perkins. "The $0 shipping offer is our way of helping more people experience the benefits of kettlebells."
Perkins started the company with partners Chad Price and Nehemiah Heard, graduates of Rice University and former college football players. The trio became fans of kettlebell workouts during their time playing sports, in part because of the effectiveness of combining cardio, weight-lifting, and full body resistance in one workout. This combination will help customers see the benefits of their workouts sooner than they would with other methods, making it the perfect method to help customers get in shape.
The Kettlebell Kings website emphasizes customer education, helping them make informed decisions about their kettlebell purchases with a free online guide to choosing the right kettlebell at the right weight. Customers will also be coached about to use the equipment once it arrives at their home by signing up for weekly emails that detail new workouts to inspire more use of their new kettlebells.
"One of the best things about kettlebells is that people don't have to join a club or a gym to use them, and they don't require a massive piece of equipment taking up space in their home," said co-founder Chad Price. "We encourage customers to check out our social media pages, where we post workout content, contests, and giveaways to keep them engaged and excited about their kettlebell workouts."
The shipping deal applies to all the kettlebells in the online store, including e-coat, powder coat, vinyl covered and steel competition kettlebells. Customers who are interested in taking advantage of the $0 shipping and weekly workouts can do so by visiting the company's website at http://www.kettlebellkings.com.
About Kettlebell Kings
Kettlebell Kings is located in Austin, Texas--recently named one of the fittest cities in the country. The company aims to provide customers with the tools they need to transform their body and mind. They carry a huge variety of kettlebells in order to offer the widest selection at low cost and quick, easy, and $0 shipping. Their selection includes kettlebells for seasoned users and those who have never tried the workout before.