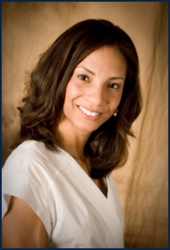 Matthews, NC (PRWEB) September 10, 2014
Gum recession patients in search of a periodontist in the Matthews and Charlotte, NC area who offers a minimally painful gum recession treatment option, are encouraged to schedule a consultation with Dr. Kiya Green, a periodontist with Matthews Periodontics. Dr. Green is now qualified to perform the revolutionary Pinhole Surgical Technique (PST™), which is an honor that is limited to very few periodontal professionals.
Gum recession is a very common condition that often results from gum disease. However, the condition can also be the result of brushing too aggressively, clenching or grinding of the teeth, or lifestyle choices such as tobacco use and wearing oral jewelry. Regardless of its cause, gum recession can diminish self-confidence and can cause a significant amount of tooth sensitivity and discomfort. Exposed root surfaces resulting from recession can increase the risk of root decay and damage as well. Patients who are dealing with receding gums should seek gum recession treatment from a trusted Matthews, NC periodontist as soon as possible to prevent the condition from worsening.
To improve the appearance and comfort of patients who have gum recession, most periodontists perform gum grafting procedures. These procedures involve cutting healthy tissue from a location within the mouth (usually the palate), then grafting the tissue to the areas that have experienced recession. The grafted tissue is then secured in place with the use of sutures, and the patient is faced with a lengthy and often uncomfortable recovery period. PST™ significantly reduces the discomfort and recovery time associated with receding gum treatments. During the procedure, a very small tool is skillfully inserted into a tiny opening created in the gums. The tool is then gently maneuvered to reposition the gum tissue further over the teeth and cover the receded area. The process does not require any sutures and the recovery time is minimal.
Patients seeking a periodontist in the Matthews and Charlotte, NC area for treatment using PST™ are invited to call Dr. Green's office and schedule a consultation. Thanks to this revolutionary new procedure, patients can receive gum recession treatment without the discomfort and long recovery time associated with traditional techniques.
About the Doctor
Matthews Periodontics is a periodontal practice offering personalized dental care for patients in the Matthews and Charlotte, NC areas. Dr. Kiya Green is a Diplomate of the American Board of Periodontology and has over 15 years of experience. Dr. Green received her D.D.S. from the University of Maryland and completed her General Practice Residency at the Washington D.C. Veterans Affairs Medical Center. She earned her certificate in Periodontics, IV Sedation and a Masters Degree in Dental Sciences from the Medical College of Virginia. Dr. Green belongs to the one percent of dental professionals currently providing the LANAP® Protocol, the first FDA-cleared laser procedure for gum disease and periodontal treatment. To learn more about Matthews Periodontics and the dental services Dr. Green provides, visit their website at http://www.matthewsperio.com or call (704) 847-5657.