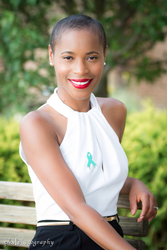 DALLAS, TX (PRWEB) September 11, 2014
Grammy and Tony Award Nominee, Valisia LeKae, was starring in the Broadway role of a lifetime, playing Diana Ross in "MOTOWN THE MUSICAL." Then Valisia was diagnosed with ovarian cancer.
Early this year Valisia joined forces with the National Ovarian Cancer Coalition (NOCC) to play one of the most important roles of her life, and plans to win! As the organization's Spokesperson, Valisia has been particularly busy raising awareness about the disease this month, which is Ovarian Cancer Awareness Month.
Please join Valisia this Saturday, September 13th, at Memorial Hall in Fairmount Park, by participating in the NOCC Delaware Valley Chapter's 16th Annual Run/Walk to Break the Silence on Ovarian Cancer ®. For details about the event, including registration information, please click here.
Also, come learn about the NEW Ovarian Cancer Dream Team, a groundbreaking opportunity to fund ovarian cancer research that was announced on September 5th during the Stand Up To Cancer (SU2C) telecast. NOCC is collaborating with partners OCNA, OCRF, and SU2C to support this exciting research venture.
Throughout September, NOCC chapter offices nationwide will host the organization's signature Run/Walk events. These events are important opportunities to raise awareness about ovarian cancer, which can lead to higher survival rates.
Ovarian cancer continues to be the deadliest of all gynecologic cancers. According to the American Cancer Society, a woman's risk of getting ovarian cancer in her lifetime is approximately 1 in 72. This year it is estimated that 21,980 women will receive a new diagnosis of ovarian cancer, and 14,270 will die.
"Ovarian cancer is more than a woman's disease ®," says David Barley, Chief Executive Officer of the National Ovarian Cancer Coalition. "We see families torn apart with the loss of a mother, wife, sister, daughter, grandmother."
There is no test to detect ovarian cancer; a Pap test does not detect the disease. There are symptoms, which are subtle, that can mimic those of unrelated conditions. For these reasons, most cases of ovarian cancer are diagnosed in later stages, when the prognosis is poor.
Symptoms of ovarian cancer include bloating, pelvic pain, feeling full quickly, and frequent urination. Signs can also include fatigue, upset stomach, back pain, constipation and menstrual changes. Women who experience symptoms that persist for more than two weeks should see their doctor and a gynecologic oncologist if ovarian cancer is suspected.
ABOUT THE NATIONAL OVARIAN CANCER COALITION
For over two decades, the National Ovarian Cancer Coalition, a designated 501(c) 3 organization, through its more than 21 chapter offices nationwide, has been working hard in our communities to promote research, raise awareness, and provide education about Ovarian Cancer, and to improve the quality of life for Survivors. The Coalition remains committed to its mission to save lives by fighting tirelessly to prevent and cure ovarian cancer, and to improve the quality of life for survivors. Please visit our web site for important information and resources.
Also, visit us at whyteal.org, and follow us on social media using #whyteal, #gotteald, #noccrunwalk, #ovariancancer, and #ovariancancerawareness.
###