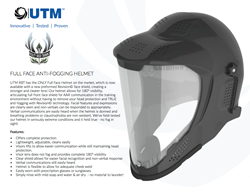 We wanted to create products that are lightweight, breathable, easy to clean and unrestrictive, so you don't feel like you are performing in a 'training environment' - which makes it more realistic and effective and more importantly, safe.
Mildenhall, United Kingdom (PRWEB) September 11, 2014
UTM Reality Based Training (UTM RBT) has introduced a new one-piece fully integrated anti-fog face mask and the only full-face training helmet on the market. The new one-piece Face Mask with integrated goggles was designed and developed in conjunction with military and law enforcement customers to be worn while using the UTM RBT Man Marker Round (MMR) during Force-on-Force training. "It was specifically created to work with Ballistic Helmets, which is why it has a new chin strap extender and allows for proper cheek weld of shoulder fired weapons, which is key in training. Our Protective Face Mask offers face, throat and eye protection that is light wearing, breathable and fully flexible and adaptable to all conditions and environments, with anti-fogging lenses made by Revision©. We've also lifted the mask off the face for a cooler and more comfortable fit and it has adequate space for radio equipment, ear and throat microphones. It's easy to forget you even have it on at all, which is what we wanted to achieve", states Steven Didier, UTM RBT COO - International.
The all new UTM RBT Full Face Helmet, is now available with a new pre-formed anti-fogging Revision© face shield, which creates a stronger and clearer lens. The helmet allows for 180° visibility, articulating full front face shield for AAR communication in the training environment without having to remove head protection and TRUE anti-fogging with Revision© technology. "In our experience, we know it's important that facial features and expressions are clearly seen in the training environment, non-verbals can be responded to appropriately, verbal communications are easily heard when the helmet is donned and that breathing problems or claustrophobia are non-existent - which is why we have developed this technology and designed our helmet this way. We wanted a helmet which was lightweight, easy to clean, unrestrictive and enabled users to obtain a adequate stock weld for more realistic training. More importantly we've field-tested our helmet in seriously extreme conditions and it held true - no fog in sight!", says Tony Lambraia, UTM RBT COO - USA. Further information on the new product technology is available at http://www.utmworldwide.com
UTM RBT is a training company which manufactures training ammunition, weapon conversions, products and provides training courses, curriculum development, training facility designs and consultation. UTM RBT currently offers products and training to Military, Law Enforcement Agencies, Private Training Organizations and Private Security Companies in over 65 countries around the world.