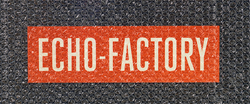 We want to be the first agency that innovators think of when launching their new product, and Pasadena is the perfect home base to make that happen.
Pasadena, Calif. (PRWEB) September 11, 2014
Echo-Factory, a Southern California advertising agency, is moving its base of operations from Rancho Cucamonga to Pasadena. The move is part of the agency's strategic effort to better serve their client base and prepare for a growth phase that is increasingly positioning them as a top strategic and creative resource for Southern California's clean-tech and innovation entrepreneurs.
"We've called Rancho Cucamonga home for more than six years, and we will definitely miss the community we've created there, but we are excited about the opportunities that come with moving to this new city," said agency creative director and co-owner Dea Goldsmith. "The Art Center, Caltech, the Norton Simon, the Rose Parade—Pasadena has such an abundance of artistic, scientific and creative energy—we can't wait to be a part of it all. We want to be the first agency that innovators think of when launching their new product, and Pasadena is the perfect home base to make that happen."
The new office will be located at 36 West Colorado Blvd., Suite 200, just a few yards from the Apple Store. Echo-Factory principal and co-owner Mike Schaffer says the new space is perfect for running a dynamic enterprise. "We do everything from content marketing and public relations to web design, product photography and advertising—this means we need an office where our strategists, designers, writers, photographers, account managers and executives can work together effectively. The space needs to be suitable for collaboration or contemplation depending on the needs of our staff and the project. The Pasadena office is designed to strike that balance."
With a client list that reflects their love of diversity, and a number of launch-to-acquisition marketing successes under their belt, Echo-Factory is ready to help the Pasadena and Los Angeles entrepreneur communities thrive.
"We work with clients in industries ranging from action sports to clean energy. This variety is what makes us such effective strategists and brand builders, and we hope that area innovators will use us as a resource for achieving market success," said Schaffer.
From a creative standpoint, Goldsmith agrees that diversity is what makes Echo-Factory special. "It's easy to get stale when all of your clients are in a single industry. Ideas become myopic, and breakthroughs become harder to realize. As a creative agency, cross-pollination is definitely a big part of our success. It's how our business remains relevant and it's how we keep our clients relevant within a market that's continually changing. Our singular goal is to help businesses reach their ultimate potential, and we can't wait to see what Pasadena has in store for us."
Echo-Factory will maintain its Rancho Cucamonga photo studio in order to continue servicing its Inland Empire clientele. To learn more about Echo-Factory, visit http://www.echo-factory.com.
About Echo-Factory: Echo-Factory is a full-service, creative-based advertising agency located in Pasadena, California. The agency services startups, mid-level businesses and national brands with strategy, R&D, campaign concepting, design and implementation. The company, renowned for its custom photography and graphic design, is also known for its Internet marketing services, including website development, SEO content creation and social media management. Echo-Factory's diverse client list ranges from clean-tech to action sports to fashion. View the Echo-Factory portfolio at http://www.echo-factory.com.