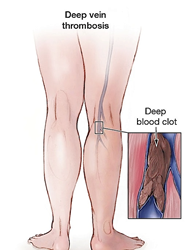 Traveling by air for four or more hours increases the risk of Deep Vein Thrombosis about twofold for several weeks after the trip
New York, NY (PRWEB) September 11, 2014
"Many Americans have heard that heart disease and stroke are the two leading cardiovascular diseases in the US but most don't realize that deep vein thrombosis, or DVT and resulting pulmonary embolisms rank number three. That's why NY Heart Health Clinics is launching a public awareness campaign and a painless, non-invasive screening program for DVT," says cardiovascular surgeon Dr. David Greuner. NY Heart Health Clinics are a division of NYC Surgical Associates, with locations in Manhattan, Brooklyn, Long Island, The Hamptons and New Jersey.
"More Americans die annually from Deep Vein Thrombosis and Pulmonary Embolism than from breast cancer and AIDS combined (300,000 vs 55,000)," says heart surgeon and NY Heart Health Clinic co-founder Dr. David Luu. "Up to two million Americans are affected annually by deep vein thrombosis, making DVT a major and growing public health concern."
DVT is a blood disorder resulting from the formation of a blood clot (thrombus) inside a deep vein of the leg, commonly located in the calf or thigh. DVT occurs when the blood clot either partially or completely blocks the flow of blood in the vein. Symptoms include pain, swelling, and discoloration. DVT can result from long periods of immobility, which can occur in long-haul air travel and remaining seated at work for extended periods of time. In addition, DVT often develops after trauma or surgery, especially orthopedic surgery and can result in a Pulmonary Embolism, which is the leading cause of preventable hospital death in the United States. A Pulmonary Embolism occurs when a portion of the blood clot breaks off and travels to the lungs.
"Traveling by air for four or more hours increases the risk about twofold for several weeks after the trip," says Dr. Luu. "Tennis superstar Serena Williams, who suffered from a pulmonary embolism said it was 'the scariest moment of my life' in a TV interview."
"We are learning that DVT is not adequately treated in most cases with simple anticoagulation (blood thinning) medication, which has been the staple of treatment in the past," says Dr. Greuner. "If DVT does not resolve completely with simple anticoagulation, long standing and severe conditions such as 'post thrombotic syndrome' or PTS may result. PTS is a problem caused by higher pressure in the deep venous system that is a result of narrowing of the deep veins due to an incompletely resolved clot, typically a result of DVT. This problem can also occur in the arms and chest where clots can also form and cause blockages.
"While only 20 percent of DVT may lead to pulmonary embolus (a clot in the lungs) more than half of them are now known to cause PTS, which we are now realizing is a significant contributor to morbidity and disability nationwide," says Dr. Greuner.
"The only way to prevent PTS is to completely rid the body of narrowing due to a clot, which often requires a combination of clot busting medication and a procedure," says Dr. Greuner.
"At NY Heart Health Clinics we can diagnose DVT as well as PTS with advanced technology such as IVUS, or intravascular ultrasound. IVUS is a new technology that uses a catheter with a micro-sized, high definition ultrasound probe that is able to enter the blood vessel and measure with extreme accuracy the interior of the vessel to guide therapeutic decisions and their outcome. NY Heart Health Clinics are among the very few centers in the world utilizing this technology to guide minimally invasive cardiovascular surgery and its results for optimal outcomes. Treatments for DVT may include venous angioplasty and stenting.
"Our role as cardiovascular surgeons is to treat patients but also to raise awareness among the public through a comprehensive public health approach including preventive screening and education, in order to reduce death and morbidity from deep vein thrombosis and pulmonary embolism worldwide," adds Dr Luu.
For information on Deep Vein Thrombosis screening and treatment call 888-286-6600 and visit http://www.nycsurgical.net/vein-procedures/what-is-dvt/
#####