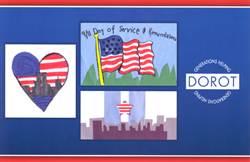 "lucky enough to participate in DOROT's 9/11 Day of Service and Remembrance Commemorative Card Project"
(PRWEB) September 11, 2014
To mark the 9/11 National Day of Service & Remembrance,DOROT, a nonprofit organization whose mission is to alleviate social isolation among the elderly, will send 1,000 handmade cards to the men and women serving in the U.S. Armed Forces abroad, and postcards of thanks to New York City's first responders.
DOROT received submissions of handmade designs from volunteers all over the country, ranging in age from young schoolchildren to seniors in their 80s.Three winning images were selected by an intergenerational committee of teens, college students and DOROT seniors for use on the postcard, which will be printed and sent to first responders throughout New York City. The original cards will be sent abroad. As Americans everywhere observe the 13th anniversary of 9/11, these cards offer both reflection and heartfelt wishes for a better tomorrow.
The winning designs included one by a Viacom employee. In May, 80 Viacom staff members participated in DOROT's 9/11 card making project at Viacommunity Service Day.
Another winning design was from a camper at Camp Kinder Ring of The Workmen's Circle in Hopewell Junction, New York. This is the second year that one of their campers' cards has been selected. They participated in DOROT's project again this year because Workman's Circle/Camp Kinder Ring is committed to striving for a better world while recognizing that camp is about having fun. They thought DOROT's card project was the perfect way to unite these ideas, giving campers a chance to thank the 9/11 first responders and members of the U.S. armed forces in a positive and fun way.
The final winning design was by one of Columbia University's High School Summer Program Counselors, Jacqueline K. She said she was "lucky enough to participate in DOROT's 9/11 Day of Service and Remembrance Commemorative Card Project [while] working as a counselor for Columbia University's Summer Program for High School Students. DOROT seemed like an amazing opportunity for the kids to give back to the elderly of New York City in a fresh and intimate way, so a group of [campers and counselors] made a trip to the office to participate in this awesome program. It was beautiful to see the high school kids wholeheartedly embrace the project, writing and drawing beautiful art for the first responders who served us all on one of our country's worst days. [She] sincerely believes this was a very enriching experience for [the] high school students, and [she] thanks DOROT for giving [them] this wonderful opportunity to give back to the community and country."
On September 14, 2014 at DOROT's Rosh Hashanah Package Delivery and 9/11 Day of Service, the postcard will be signed in person by elders and their visitors, and then mailed throughout New York City. This intergenerational program gives people of all ages a chance to celebrate the Jewish New Year and reflect on the National Day of Remembrance.
The September 11th National Day of Service and Remembrance is the culmination of an effort originally launched in 2002 by families affected on 9/11 and support groups, who worked to establish the charitable service day in honor of 9/11 victims and survivors, and others who rose up in service in response to the attacks. In 2009, Congress designated September 11th as a National Day of Service and Remembrance. On this solemn anniversary, Americans unite in service in the same remarkable way that so many came together following the attacks.
In 2011 DOROT received a three year challenge grant from the Corporation for National and Community Service, a federal agency that awarded 14 grants around the country supporting this effort. DOROT is the only New York City recipient of this federal grant.
For more information about DOROT, please visit http://www.dorotusa.org.