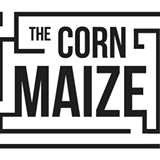 It's been a lot of work and this is our first year but we are very excited for opening day.
Ogden, UT (PRWEB) September 11, 2014
Put The Corn Maize at Staker Farms on calendars right away, and don't miss out on one of the most fun filled activities in Northern Utah. Opening on September 26th, 2014, The Corn Maize has activities for the entire family. Featuring three unique mazes, there are family friendly versions Mondays through Saturdays. Adults and older kids will enjoy a haunted version on Friday and Saturday nights through October 31. Live creatures and themed, motion-activated props make the haunted maze experience scary and exciting.
The mazes feature Utah's slogan, "Life Elevated," along their paths. Fall leaves and pumpkins galore add a seasonal touch as folks navigate through the paths. "It's been a lot of work and this is our first year, but we are very excited for opening day. Some of our neighbors have pitched in to help create some activities featured alongside The Corn Maize, which we hope to make an annual event at the farm," says owner Don Staker.
For high-tech types, use a GPS to pinpoint real-time location in the maze to race through or iof becomming lost. Take part in trivia questions that, when answered correctly, will help participants navigate the maze faster. Give a wrong answer, however, and possibly end up at a dead end or taking a longer route. Guests are welcome to come in costume. Don't forget to bring a flashlight as the maze is unlit.
To make the day or evening complete, Staker Farms also features a magic pumpkin patch, barrel train ride, giant hay stack slides, the little monster's corral, a bouncy house, concessions and more. The bewitching concession stand is serving a delicious array of meals, snacks, and drinks, no cooking required. Other highlights include an old-fashioned wagon ride pulled by draft horses, Itchy and Scratchy, and a 9 foot tall, 70 foot long hanging gourd tunnel.
When a neighbor who hosted a corn maze for many years sold his property, the Stakers saw an opportunity for the fall of 2014. Along with help from family and friends, they decided to create the maze and accompanying activities that will even include a campfire.
Located in Ogden, Utah at 2801 South 3500 West near the city of West Haven, the maze is easily accessible and makes for a fun family or group outing. Visit The Corn Maize website at http://www.thecornmaize.com for more details or to reserve a spot for a party or group.