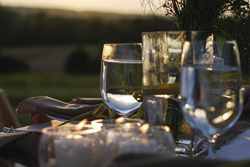 'Santa Barbara's finest indulgences are available for both guests and locals through these programs,' said Shelley Stearns, General Manager of Hotel Milo Santa Barbara.
Santa Barbara, California (PRWEB) September 15, 2014
The recently renamed Hotel Milo Santa Barbara, an Independent Collection hotel, anticipates the change of season by announcing its new fall programming, which incorporates the community and culture of Santa Barbara into the hotel's seasonal offerings. What to look for starting October 1 at this Santa Barbara oceanfront hotel? A gourmet dinner under the October night sky, a professionally led bike tour through the mountains and full moon yoga for a start.
"Santa Barbara's finest indulgences are available for both guests and locals through these programs," said Shelley Stearns, General Manager of Hotel Milo Santa Barbara. "We are happy to incorporate local Santa Barbara events and glad we can continue working with our existing partners — Les Merchands, Lolë and SB Fitness Tours; they are integral parts of the community and fabulous to team up with."
Epicure Dinner with famed Les Marchands chef Weston Richards
As Santa Barbara celebrates Epicure SB, 31 days of food and drink, Hotel Milo is joining in the fun and celebration. The boutique hotel is continuing its partnership with the legendary sommeliers, Les Marchands, to create a pop-up dinner series in the Milo courtyard on select Wednesday evenings in the month of October. The dinner will be an intimate experience, starting at 6pm and selling just 20 tickets at $69 per seat with an optional wine pairing for $25. Crafted by the in-house Les Marchands chef, Weston Richards, guests will enjoy a meal that is indigenous to the Santa Barbara coast. For tickets, please contact Les Marchands at info(at)lesmarchandswine(dot)com or 805-284-0380.
Yoga under the (Full) Moon
The Epicure SB series is just one way Hotel Milo will pay homage to all cultural components that Santa Barbara has to offer. On October 8, Hotel Milo will once again partner with Lolë Women's Activewear to celebrate the Full Moon with a Yoga Flow by beloved Ayurveda and Yoga instructor, Kellen Brugman. The complimentary class will feature slow flow yoga set to the sounds, waves and the glow of the full moon in Ambassador Park. Lolë and Hotel Milo will be providing mats, water, towels and hot tea for the all-age, all-level class.
Historic tours of Santa Barbara by foot and bicycle
No trip to Santa Barbara is complete without a little adventure. To that end, Hotel Milo has collaborated with their partner SB Fitness Tours to craft historic guided bike and foot tours for both guests and locals. Featuring much of Santa Barbara's rich tradition, SB Fitness tours will guide guests through a 2 hour expedition for $60 per person, which includes snacks and water. Guests can book their tours through Hotel Milo directly at 805-965-4577.
All of these exciting fall events at Hotel Milo give guests and locals many reasons to look forward to the change of season!
About Independent Collection: The Independent Collection is a growing collection of cultivated and intimate lifestyle hotels located in unique residential neighborhoods of gateway cities across the US. Founded in New York in Tribeca and then Brooklyn, it has grown to Boston's West End, Midtown Village in Philadelphia, Washington's Capitol Hill and Georgetown, and Miami's South Beach across the last five years. This distinctive hotel concept is renowned for its authentic connection to the local communities, personalized service and residential comforts. Independent Collection hotels are created for the independently minded traveler and invite guests to experience the true spirit of the city. Learn more by visiting http://www.independentcollection.com
About Les Marchands: Les Marchands is a labor of love between Eric Railsback and Master Sommelier Brian McClintic, whose wine trips to Paris and Burgundy have inspired a fresh and dynamic vision for retail, dining, and education. Whether picking out a bottle from our shop or stopping off at the tasting bar for some share plates and a glass, Les Marchands sets out to prove that a world-class food and wine experience can exist in a relaxing atmosphere, free of intimidation. http://www.lesmarchandswine.com
About Santa Barbara Fitness Tours: We offer fun and exciting Santa Barbara tours, adventures, and rentals. We'll take you mountain biking or you can reserve bike rentals in Santa Barbara for a cruise along the boardwalk. You can also take surf lessons, hike our gorgeous mountains, horseback ride on the beach, learn how to stand up paddle, and so much more. We'll even deliver many of our rentals to you, including our high-end road bike rentals, 29er mountain bikes, and SUP Rentals within Santa Barbara! If you're looking for adventure; you've found it! Santa Barbara Fitness Tours is your one-stop-shop for experiencing SB in the most fun and active way possible. http://www.santabarbarafitnesstours.com
About Lolë: Lolë nurtures the body and mind with fun, feminine, and beautifully designed active wear that's stylish enough to transition instantly from the studio to the street. Designed for today's active urban woman, Lolë collections truly reflect a modern lifestyle, and turn consumption into investment by offering long-lasting, versatile clothing with real value. Lolë stands for Live Out Loud Every day. Born in Canada and still entirely designed in Montreal, Quebec, Lolë clothing can be found at more than 1,500 retail outlets around the world, with a local Santa Barbara location at 714 State Street and online at http://www.lolewomen.com.